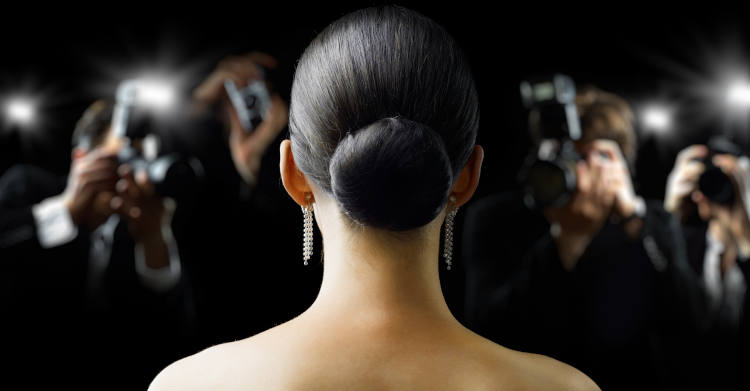 Which Female Celebrities Have Hair Loss?
While the Oscars 2022 provided plenty of drama, the discussions in the following days allowed for the spotlight to be shone on female hair loss. This is often seen as a taboo topic of conversation, but research indicates that 40% of women will endure some form of hair loss by the age of 40 making it a very common issue.
From Tyra Banks to Keira Knightley and Kristin Davis, there are plenty of celebrities who have suffered from differing types of alopecia. But how do you know what type of hair loss you might have? Having representation in the media from celebrities about hair health can make it easier for women to learn about experiencing hair loss.
Summary
---
Jada Pinkett Smith Alopecia
---
Symptoms
Jada Pinkett Smith has been one of the most prominent celebrities to have open discussions about her alopecia areata. After first discussing it in 2018, Jada's alopecia was revealed to have been considered to be stress related by her doctor.
Alopecia can begin as bald patches forming at the temple, which results in clumps of hair falling out. It can often be first spotted in the shower where the hair can come out in handfuls while washing like with Jada Smith's alopecia or on your hairbrush if large amounts are pulled out while combing.

Female hair loss causes a lot of emotional stress, as she describes "literally shaking in fear" during her acclaimed Red Table Talk series. After encouragement from her daughter, Jada Pinkett's alopecia led her to shave her hair off and embrace the look.
Treatments
As seen with Jada Pinkett-Smith's alopecia, many people choose to commit to the hair loss and shave off their hair or decide to wear wigs to conceal their hair falling out. There are some treatments like Minoxidil tablets for female hair loss which are available, but users can experience negative side effects and hair growth will only last as long as the product is used daily.
Khloé Kardashian & COVID-19
---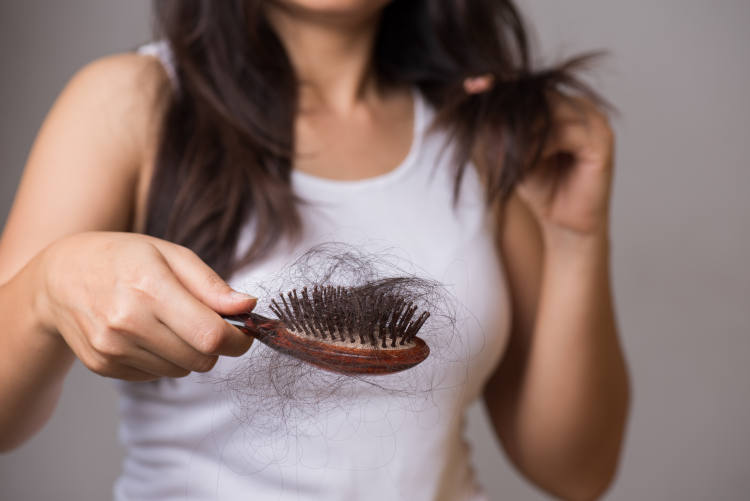 Symptoms
The wide range of COVID-19 symptoms have caused people to become concerned about the potential to lose hair following contracting the virus. Many women have suffered from hair loss as a result of Coronavirus, including celebrities like Khloé Kardashian and Alyssa Milano. Kardashian described how her hair fell out in "chunks" just weeks after having gone through COVID-19.

Other women have reported having a particularly sore scalp along with hair loss. Doctors discovered that due to the high temperatures experienced by COVID-19 patients for an extended period, it can cause the hair to fall out. The hair thins and comes out in clumps during this time.
Treatments
Not a lot is currently known about the long term effects of Coronavirus as they are developing. When it comes to hair loss due to the virus, the lost hair will regrow after a period of time. Women have reported that it can grow back in tufts where the hair is not at the same strength and colour as before. Avoiding too much contact with the hair or using supplements infused with collagen can aid in the recovery.

For more persistent damage, a hair transplant can provide healthy, full hair that lasts a lifetime. Cutting-edge techniques utilised exclusively at Elithair such as the SDHI hair transplant are ideal for female hair loss treatment, combining precision with a naturally dense result.
Christina Milian & Postpartum Hair Loss
---
Symptoms
An issue that's not often discussed is post-partum hair loss. As the body goes through a stressful period, such as childbirth, hair shedding can occur. A small amount is expected following pregnancy, but some women can experience more concentrated hair loss.
Celebrities like Christina Milian and Lea Michele have detailed their experiences with post-partum hair loss. Milian says she wasn't sure her hair would ever grow back, as it was falling out while she was washing.
Treatments
Milian reports that she found it difficult to find information on the subject, as it was not, something being talked about online in great detail. The advice she received from her gynaecologist pertained to her diet along with paying particular attention to the scalp when applying any topical solutions.

In cases where the hair loss is more permanent, a hair transplant is the best female hair loss treatment and can effectively cover any bald patches or thinning areas of hair. The end result looks natural and provides long-lasting results, with usually only one procedure being necessary.
Other Celebrities with Alopecia
---
Over the years, several other influential figures have come forward about their own experiences with hair loss in females. Viola Davis began to suffer from alopecia at just 28 years old and experienced a lot of confidence issues as a result of this.
After years of wearing wigs to cover the patches of bald on the top of her head, Davis has come forward about wearing her natural hair in public and becoming more self-assured about it. 

Another celebrity who revealed she had been using wigs was Keira Knightley. The extent of her hair loss due to persistent hair dyeing meant that her natural hair took a long time to recover. This meant she had to use wigs to hide the changes for 5 years.
How Does Elithair Treat Female Hair Loss?
---
The only permanent treatment for female hair loss is a hair transplant tailored for women. Specialists are now able to use healthy hair follicles from the back of the head to implant grafts and create a full and thick head of hair. This makes it the best hair loss treatment for female pattern hair loss and other types of balding.

At our state-of-the-art clinic, we guide you through the entire hair transplant process, from consultation to aftercare. Our all-inclusive package has everything you need including accommodation, airport transfer and translators.

Elithair provides high quality results using exclusive techniques pioneered by hair surgery expert Dr. Balwi. Contact your personal specialist today to get a free quote.