FUE Hair Transplant
The First Step to Recover Your Hair
The Follicular Unit Extraction (FUE) method is the basis of your hair transplant and is used exclusively to harvest your hair follicles. As the most modern and effective technique, it is a crucial part of your hair loss treatment.
Thanks to the manual extraction of individual hair follicles, the FUE technique ensures high precision and preserves the donor area.
Start your free hair analysis to learn more! It only takes 2 minutes!
Free Hair Analysis
Before and After FUE Technique
Our Patient's Results
Why Choose an FUE Hair Restoration Surgery?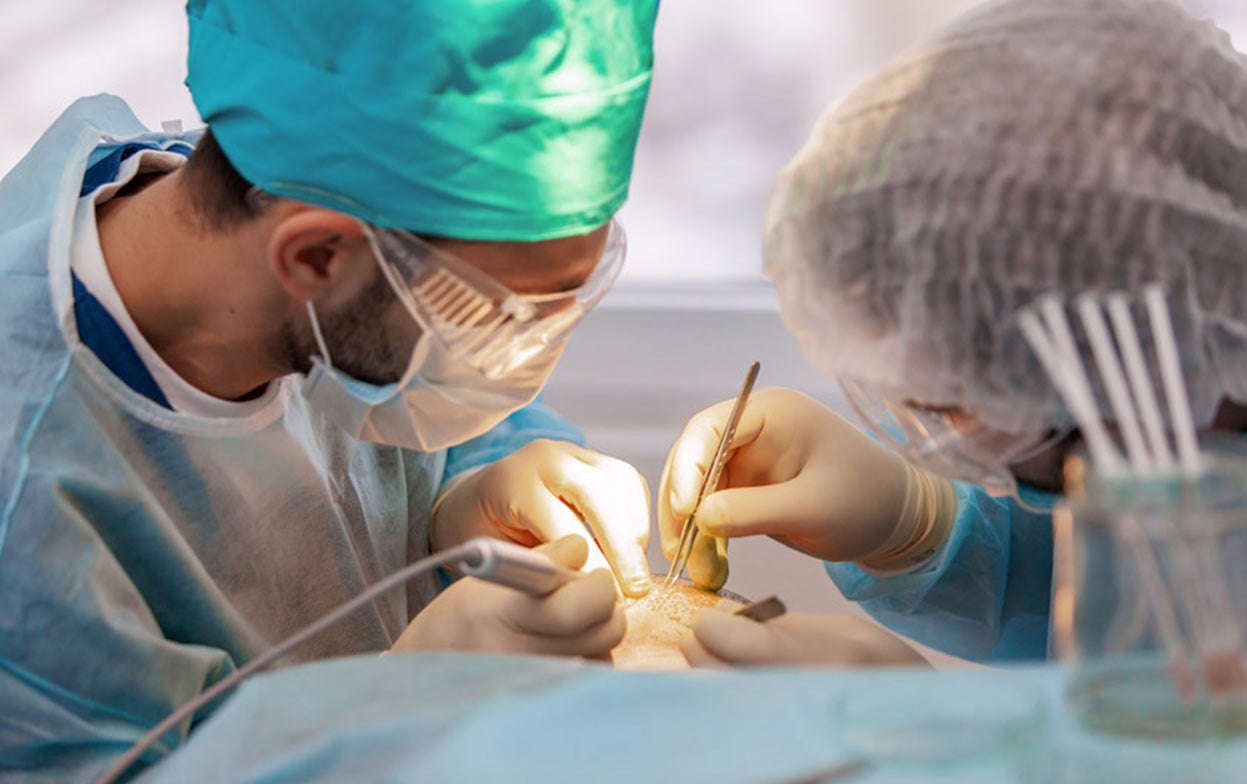 While many clinics still use the outdated FUT technique ("Strip method") for harvesting grafts, Elithair exclusively uses the modern FUE hair transplantation method.
Here, instead of a whole strip of skin being removed from the donor area, each of your hair follicles are extracted individually. Accordingly, there is no feeling of unease and minimal scarring that is easily hidden with hair growth.
A lot of experience and sensitivity is required for the FUE technique, which is guaranteed by the experienced specialists from Elithair.
Free Hair Analysis
What Is the FUE Hair Transplant Procedure?
Your hair transplantation is performed in several steps. An important part of the treatment is the removal of your grafts – and this is the purpose of the FUE hair transplantation.
Each individual step is carried out by Elithair's dedicated team. This ensures the highest quality and a perfect end result for you.
Step 1:

NEO

FUE® Preparation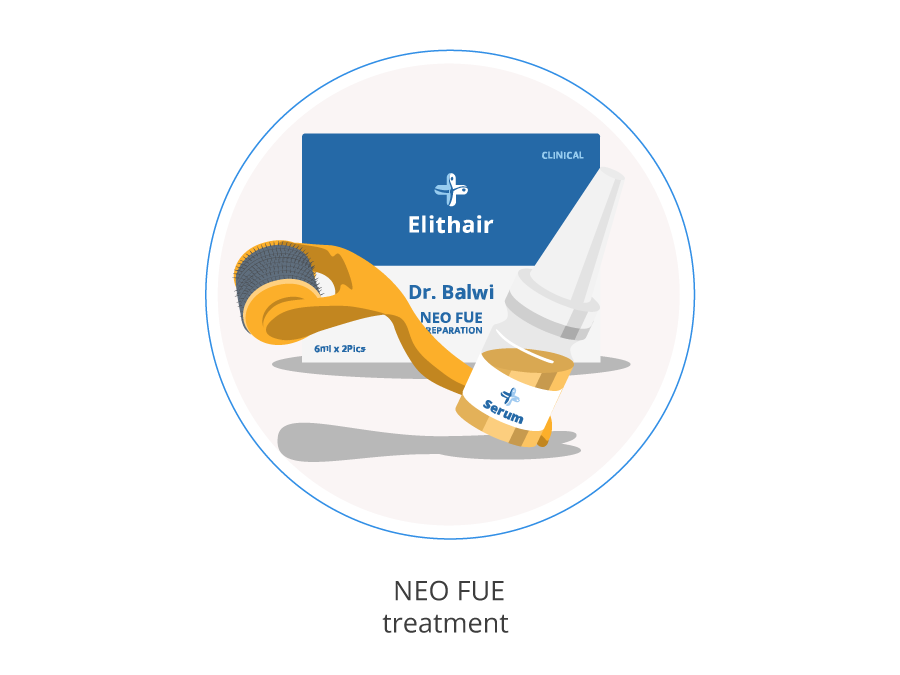 With Elithair's exclusive NEO FUE preparation, Dr. Balwi has developed an innovative preparatory step that makes your hair transplant even more effective.
Always in the pursuit of progress, our experienced doctor has succeeded in developing a biotin rich serum that vitalises and strengthens your hair follicles in the recipient and donor areas of the scalp before your treatment.
This special serum ensures a high growth rate of up to 98%.
Step 2: Loosening the Grafts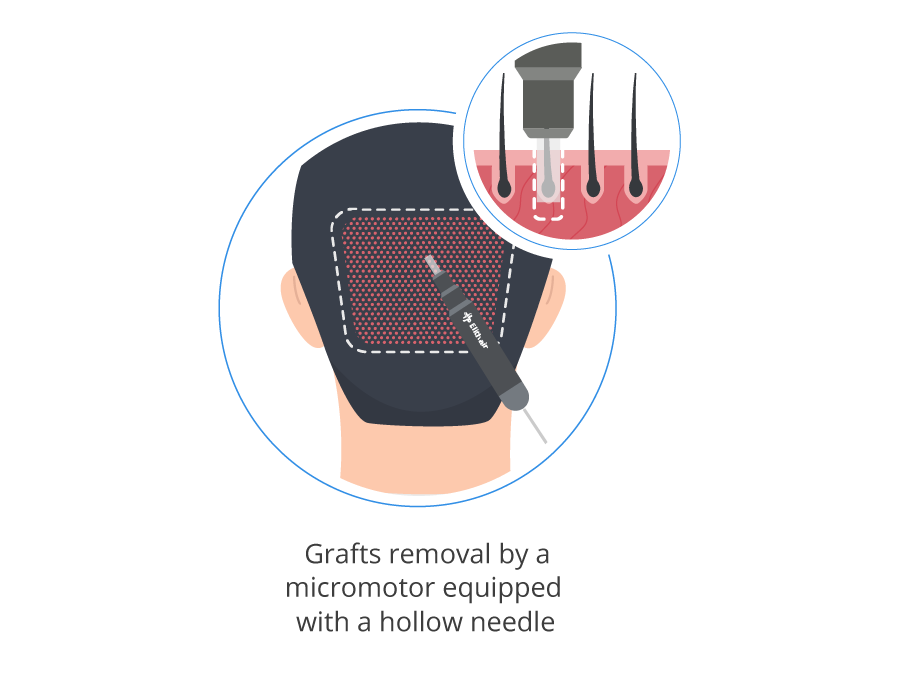 The next step of the FUE procedure in Turkey consists of extracting the hair follicles. Here a special hollow needle is used with a micromotor after a local anaesthetic has been applied.
This tool allows us to first loosen your follicular units before removal, which is a crucial part of this hair transplant technique.
The diameter of the needle is also always adapted to your hair structure. For thick hair, a needle with a diameter of approx. 0.8 mm is used. For thin hair, this is between 0.7 mm and 0.75 mm.
Step 3: Removal of the Hair Follicles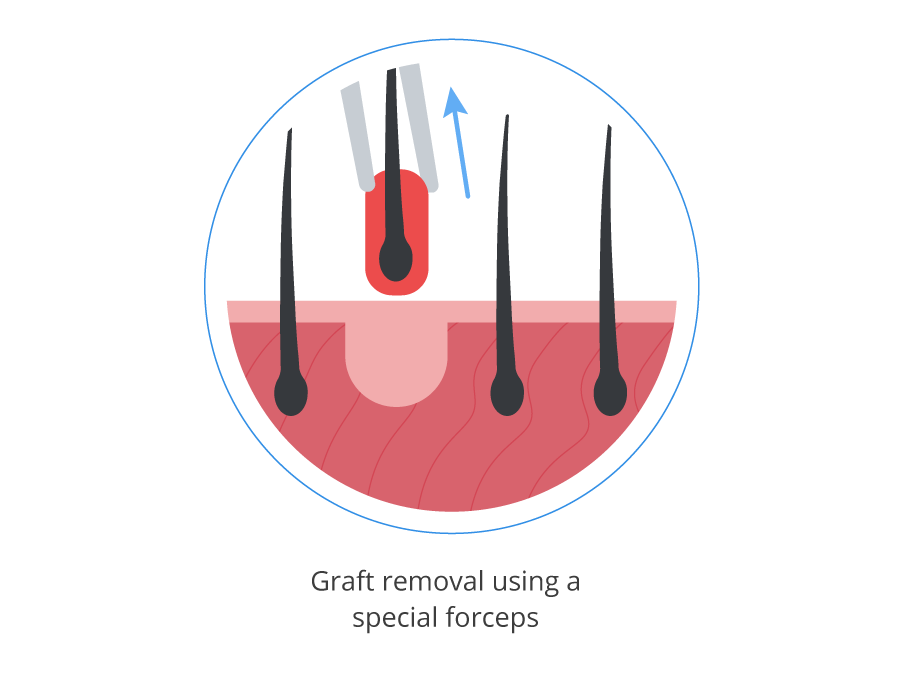 To remove the hair follicles, special tweezers are placed on each of your hair roots.
This process represents the great strength of the follicular unit extraction technique, as it ensures a particularly gentle and extremely precise treatment.
Since each hair root can be removed individually with this procedure, it achieves an extraordinarily high level of precision.
Step 4: Graft Storage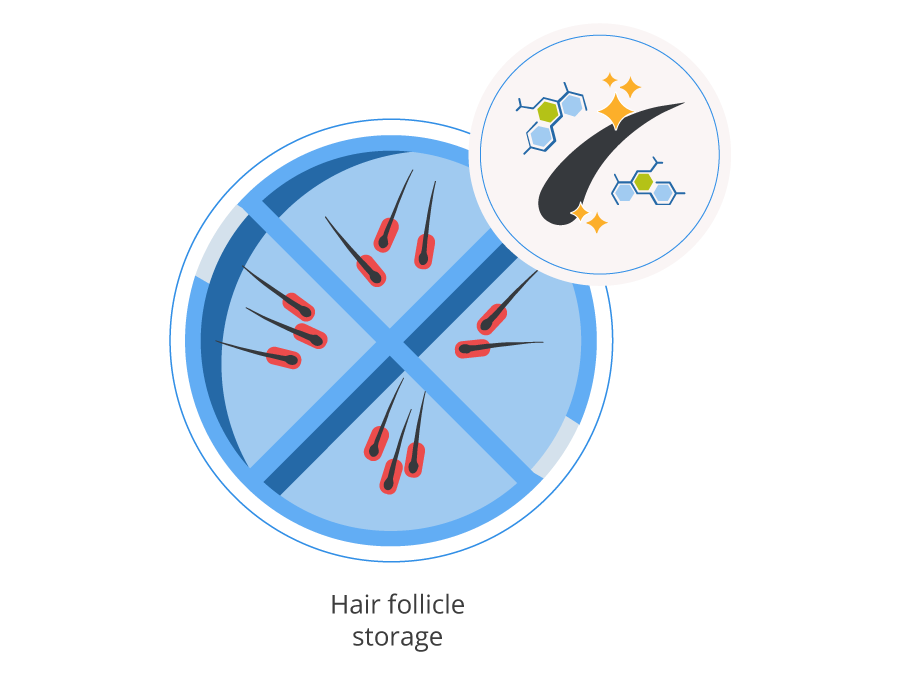 After the grafts have been harvested, they need to be stored before they can be transplanted back into your recipient area.
In order to prepare them optimally for the next step, your hair follicles need to be provided with necessary nutrients.
For this, your grafts are stored in a biotin-rich solution until the next step of the surgery, where your follicles are getting transplanted with the best method for your hair loss situation.
Free Hair Analysis
FUE Hair Transplant Surgery
Is it Possible to do it Without Shaving?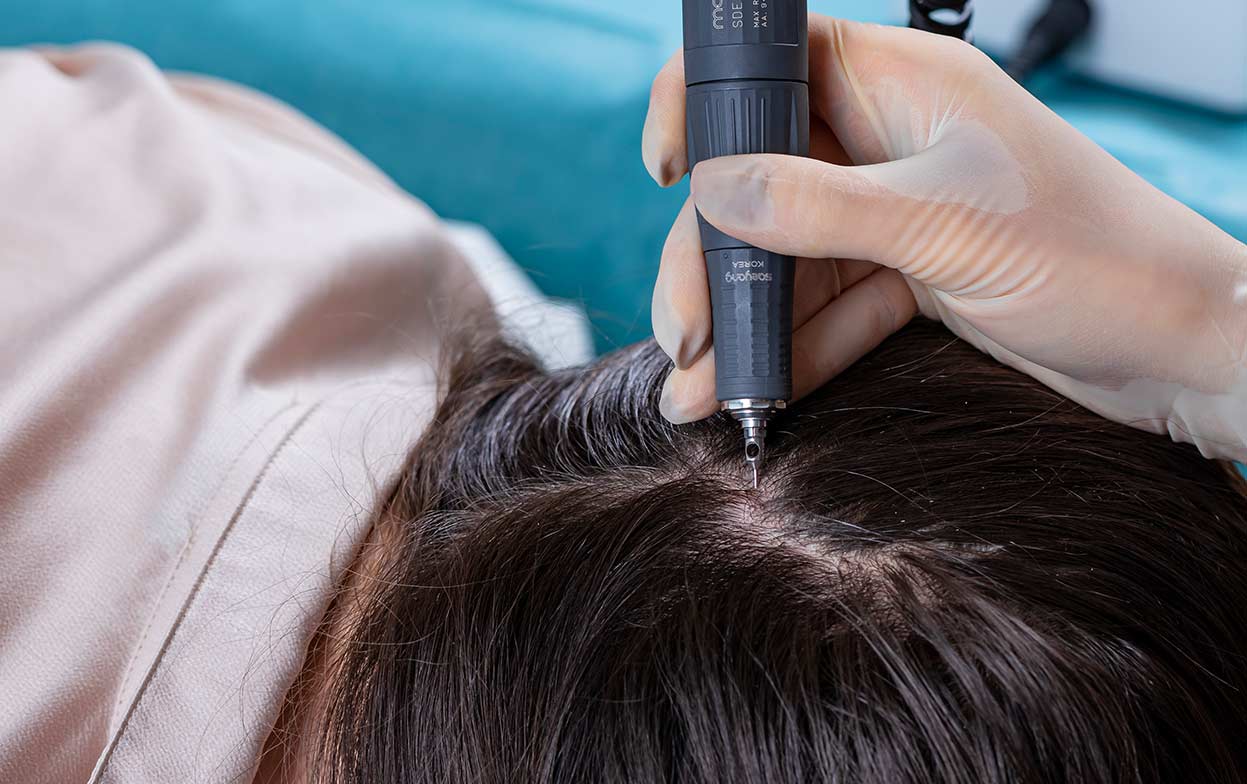 Whether you can have an FUE hair transplant without shaving depends on your individual treatment.
If you have a receding hairline, a high forehead or small bald spots, it is quite possible to perform the transplant without completely shaving the donor area.
If, on the other hand, large areas need to be transplanted with male pattern baldness, your hair in the donor area must be shortened. However, if you wear your hair long, you can cover the shortened area without any problems.
Free Hair Analysis
What are the Hair Transplants Costs?
Depending on the severity of your hair loss, the cost of your FUE hair transplant is tailored to your treatment.
In addition to the number of grafts to be transplanted, the technique used also plays a role in determining your price. Your expert will therefore provide you with a personal offer.
Find out more in a non-binding consultation and let us advise you on how to stop your hair loss permanently.
Calculate My Offer
FUE Hair Transplant: Your Advantages
State-of-the-art technology
Experienced FUE specialists
Natural appearing donor area
Exclusive

NEO

FUE® preparation
Growth rate of up to 98% after 12 months
Why Use The FUE Technique in Turkey?
The FUE hair transplantation is the most modern technique for harvesting your hair follicles. Because your grafts are extracted individually and manually, it is particularly gentle on your donor area.
Dr. Balwi and his experienced team of specialists only use the effective FUE method for your graft removal, and thus ensures a perfect end result.
Would you like to know more? Then contact your personal expert today!
FAQ
What Is the FUE Method?

The FUE is a method of harvesting hair follicles for hair transplantation. The grafts are removed individually from the donor area in a particularly gentle manner. FUE is considered to be the most modern method of extraction.
Is the FUE Technique Dangerous?

An FUE hair transplant is relatively harmless. As the hair is removed by experienced specialists, the risk of infection is very low. In addition, you can be sure that we comply with the strictest hygiene standards and use the most modern equipment, so you can quickly return to work and your daily routine with minimal side effects.
What Are the Advantages of the FUE Method?

During the procedure, your hair is harvested evenly from the donor area using state-of-the-art equipment. As a result, your hair retains its natural appearance after your hair transplant. In addition, the risks are extremely low and there is no linear scarring. The transplanted hair grows after just a few months.