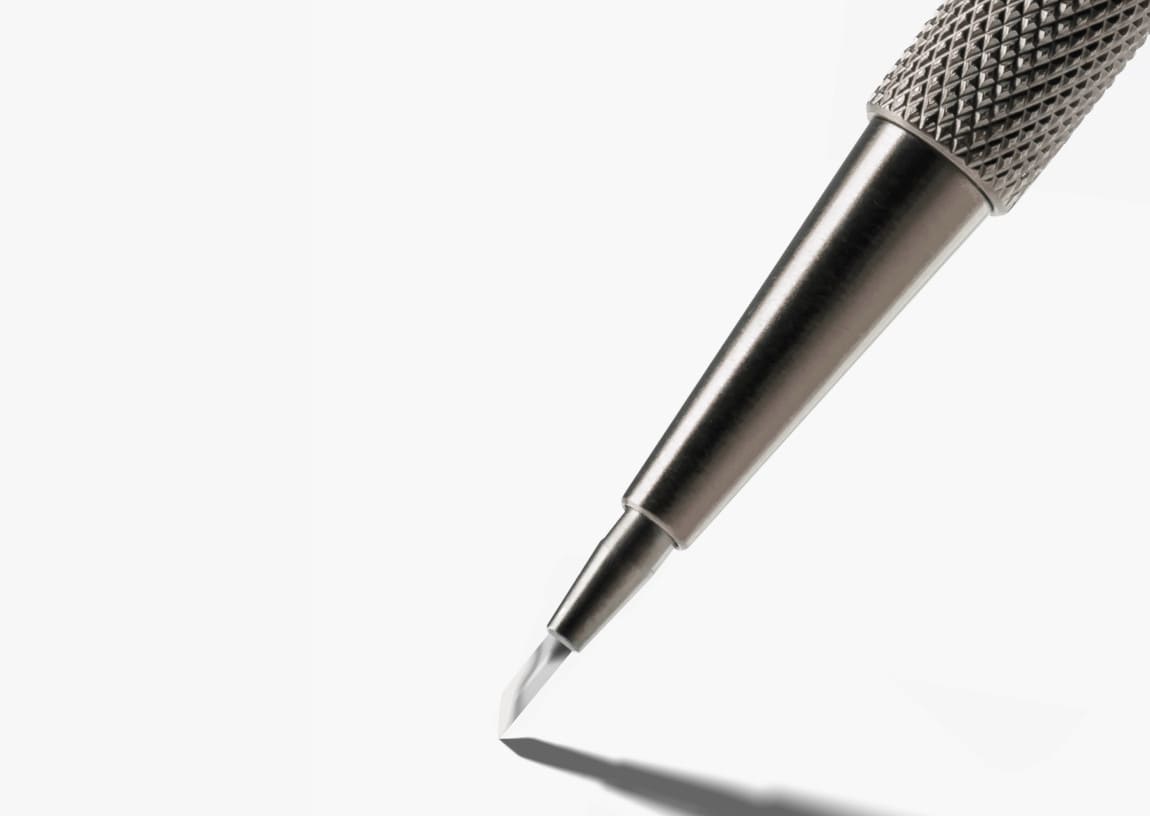 The percutaneous hair transplant is a technique designed for people with thin hair.
It is the origin of modern transplantation methods.
Today, however, more modern and effective procedures such as the Sapphire hair transplant and the DHI technique are replacing this method.
Only for Fine
Hair
Specialised and Experienced
Percutaneous Team

50,000+ Successful
Treatments
Patient Support
in English
Percutaneous Hair Transplant
the procedure in detail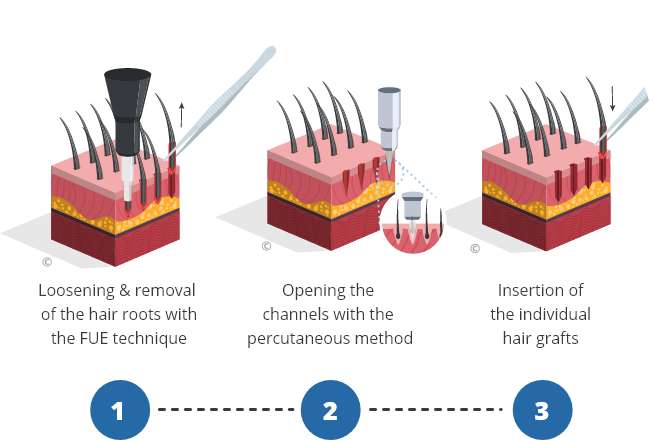 In a percutaneous hair transplant, sharp steel blades are used to open the channel. When this technique was developed, the search for a natural result was, for the first time, put in the foreground.
This focus enabled the method to deliver good results and to dominate the market for years.
However, percutaneous hair transplantation is only suitable for fine hair. It does not provide satisfactory results on other hair structures.
The Percutaneous Technique Is Ideal For
The percutaneous hair transplant is ideal for filling in the temples or the hairline.
Thanks to the optimally determinable angle, the grafts are inserted in their natural growth direction, thus ensuring good results.
However, this procedure is only suitable if you have extremely fine hair. For medium to thick hair, we use the DHI hair transplant or the Sapphire technique.
Quick and easy – The price of your personalised treatment
With our no-obligation hair analysis, you will receive a personalised estimate of the cost of a percutaneous hair transplant within minutes.
It's Not Just Hair
before and after comparison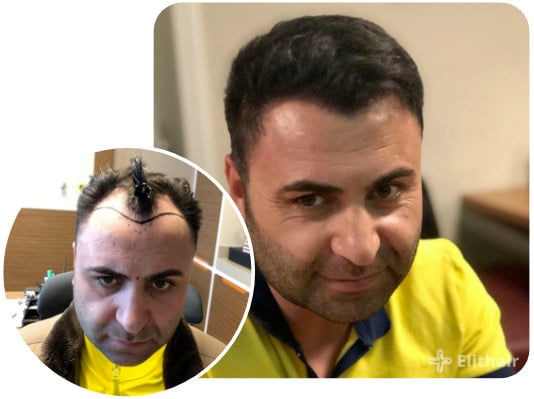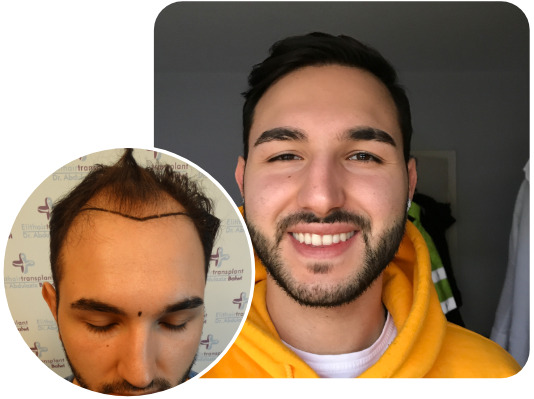 You can already enjoy your full and radiant head of hair only 6 to 12 months after your percutaneous hair transplant.
See for yourself how a hair surgery has positively transformed our patients. It's a more positive attitude to life that awaits you.
Take the first step by arranging a free hair analysis with an expert. Your hair and your confidence will thank you!
Percutaneous Hair Grafting With Elithair
your treatment for fine hair
Experience
With Europe's No. 1, you can be sure that only experts carry out your treatment. Our more than 50,000 completed treatments speak for themselves.
Percutaneous Team
During your percutaneous hair transplant, you will of course be taken care of by a team of specialists who are specialized exclusively in this method.
NEO FUE
Your percutaneous procedure will be even more effective with our unique NEO FUE preparation. Expect an impressive result.
One Treatment, One Price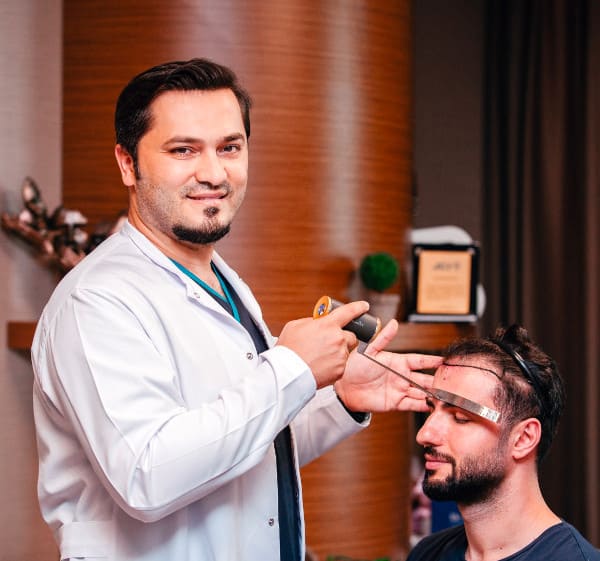 What makes us special? We find the perfect treatment for you.
With us, you can look forward to 100% individual rates.
Depending on your hair situation, your expert will establish an individual treatment price for your hair transplant.
The cost of your hair transplant depends on the method used and the number of grafts. Your advantage – Elithair offers all-inclusive packages to all patients.
Transparency and fairness are the key words here.
A Full Head of Hair Thanks to the Percutaneous Hair Transplant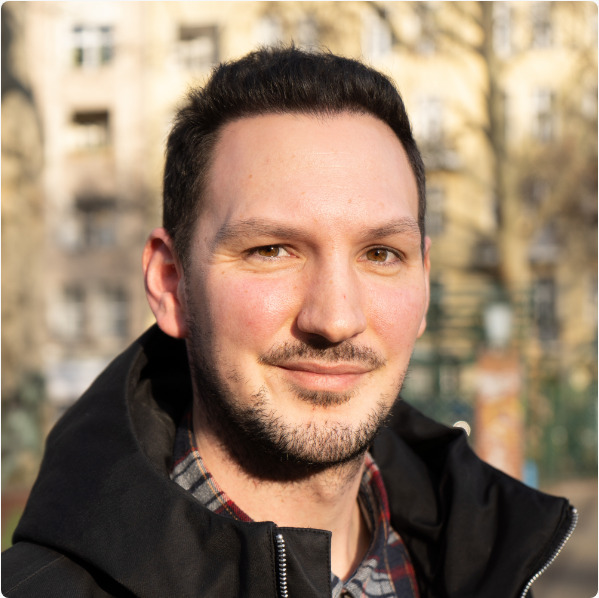 If bald patches have appeared on your head and your hair loss is bothering you, the percutaneous method is an effective solution.
With percutaneous hair transplantation, you gain self-confidence and a positive attitude towards life.
However, the procedure can only be used on patients with fine hair and is not possible without shaving.
Compared to the Sapphire or DHI method, the percutaneous hair transplant also has a long healing period of about 13 days.
Frequently Asked Questions
What is special about the percutaneous technique?

The special feature of percutaneous hair transplantation is that a pointed needle is used to open the hair channels. This makes it easy to determine the direction of the growth of the grafts and the result has a natural appearance.
Is the procedure dangerous?

No. This is a minimally invasive procedure. You can leave our clinic the same day. Thanks to the expertise of our teams, the percutaneous hair transplant is considered low-risk.