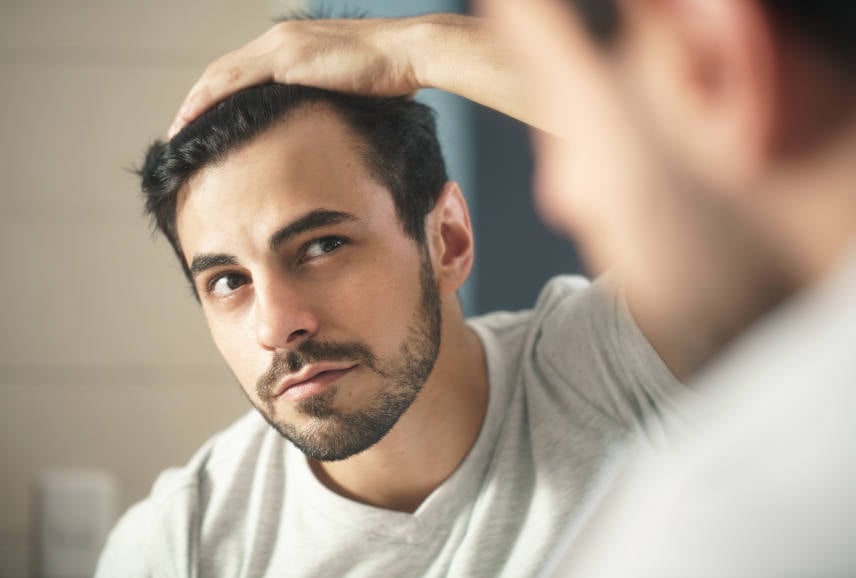 Can A Receding Hairline Grow Back?
A receding hairline is a very common problem among men. Often it marks the first stage of male pattern baldness. According to the NHS, baldness affects half of the men by the age of 50.
The problem can begin to develop at a relatively early age, right after puberty.
The hair usually starts to thin at the temples and the forehead and then proceeds towards the top of the head. There are some strategies you can follow to restore your hairline depending on the root of the problem. Some treatments slow down the rate of hair loss while others aim to boost hair growth.
A brief overview on the issue
---
Firstly a receding hairline means that the hair starts to thin according to some pattern. The most common one is when the person experiences hair fall crawling up to the top of the head wherein more of the scalp and the forehead is being exposed. Sometimes it manifests itself through a bald patch on the crown of the head.
Another symptom of this condition can also be a flaky and itchy scalp due to a buildup of sebum. Sebum protects the hair and keeps it moisturised, but the overproduction of it clogs the follicles and prevents the strands from growing.
The DHT hormone as the main cause of a receding hairline
Several potential causes have been linked to a hairline that starts to recede. The main reason why most men will experience a receding hairline by late 30s is the notorious dihydrotestosterone – or DHT. DHT is the hormone that makes hair follicles shrink. This, in turn, shortens the active growth phase of the hair.
Since men have more of the hormone in their bodies, they tend to be affected by hair shedding more often than women. However, more than 50 % of the female part of the world will experience excessive hair fall by the age of 50, usually triggered by hormonal changes and ageing.
Even such common problems as stress and psychological strain can make your hairline recede. In this type of scenario, hair loss will generally be temporary. This means you may not have to worry too much, as hair loss will likely stop once the stressful event has passed.
The issue can very often run in the family, i.e. it is genetically preconditioned. Some illnesses, e.g. alopecia areata, can also be linked to a receding hairline. Ringworm infection, thyroid and adrenal gland diseases make your hair thin as well.
Additionally, some other factors can aggravate your condition too:
Radiation therapy that focuses on the head
Tight hairstyles and aggressive styling
Pollution, smoking and an unhealthy lifestyle
How to properly diagnose a receding hairline?
---
If you do not know the reason behind your receding hairline you need to consult a doctor to figure out a targeted treatment programme.
The following tests are normally carried out to identify the causes of shedding hair:
Hair pull test: here, the doctor gently pulls a batch of hair to see if there is some hair falling out.
Blood test: it aids with detecting such causes as hormonal disbalances and nutritional deficiencies.
Scalp biopsy: the specialist uses a pen-like device to remove a small sample of the scalp tissue.
Light microscopy: this is a non-invasive procedure that helps the doctor analyse the state of your hair and scalp.
What are the treatment options?
---
You may be initially provided with medication that could help improve symptoms of hair loss. These drugs will often focus on reducing the loss of hair you are experiencing. In some cases, they may only be able to slow down the rate of a receding hairline.
Finasteride and Minoxidil are the most commonly used medications for tackling a receding hairline and general hair loss.
Finasteride
Finasteride has been approved for the treatment of pattern baldness in men. This product is sold under the brand name Propecia. You will need to obtain a prescription from a doctor to buy this medication. It primarily helps to slow down the rate at which you lose hair. It works by reducing the levels of DHT.
This drug is not the best option if you are over the age of 60. Besides, once you have stopped using the medication, the hair will start to fall out in excess again, which may be visible 4-6 months after the cessation of the treatment. Also, some men can experience a reduced sex drive when they use Finasteride.
Minoxidil

Minoxidil is often sold under the brand name Rogaine. This medication is available without a prescription and is sold in two forms: foam and liquid. It has been approved for use among both male and female patients. The product must be applied directly to your scalp.
If you use Minoxidil, you may shed some hair during the first few weeks. This is normal, as it means that the old hair is in the resting phase. Then, the growth of new healthy hair will begin. You will need to continue using Minoxidil for a minimum of six months to notice the positive results.
There is a risk of scalp irritation if you decide to use Minoxidil. Unwanted hair growth on other body parts is another side effect reported by some users.
Other measures to counter a receding hairline
When it comes to hair health, it is crucial to follow a complex of measures to tackle the problem. Managing your stress, eating healthy and choosing the right hair care products are great strategies to prevent hair loss and complement your treatment with medications.
In severe cases of thinning hair and baldness, you might want to consider a hair surgery as an alternative option. Hair transplants are highly effective in addressing male pattern baldness and creating an aesthetically-looking result.
It will also allow you to avoid any side effects of treating a receding hairline with medications, that can be unpleasant and disturbing.
Conclusion : there are many ways to combat a receding hairline
---
There are various triggers a receding hairline. This problem is inconvenient and may have psychological complications for both men and women.
You can always find the right way to eliminate the problem, depending on the severity of your condition. New hair transplant techniques like the DHI are ideal for solving receding hairlines. This due to its effectiveness and long-standing results. In many cases, the results can be maintained permanently after a single session.
The benefit of hair transplants is that you will not have to take medication on a regular basis. There is also no need to apply a liquid on your scalp and wash your hair each day.
Do you have more questions or are you suffering from hair loss issues? Then feel free to to contact our friendly team that will answer all your queries. Furthermore they can also offer a free and non binding hair analysis.