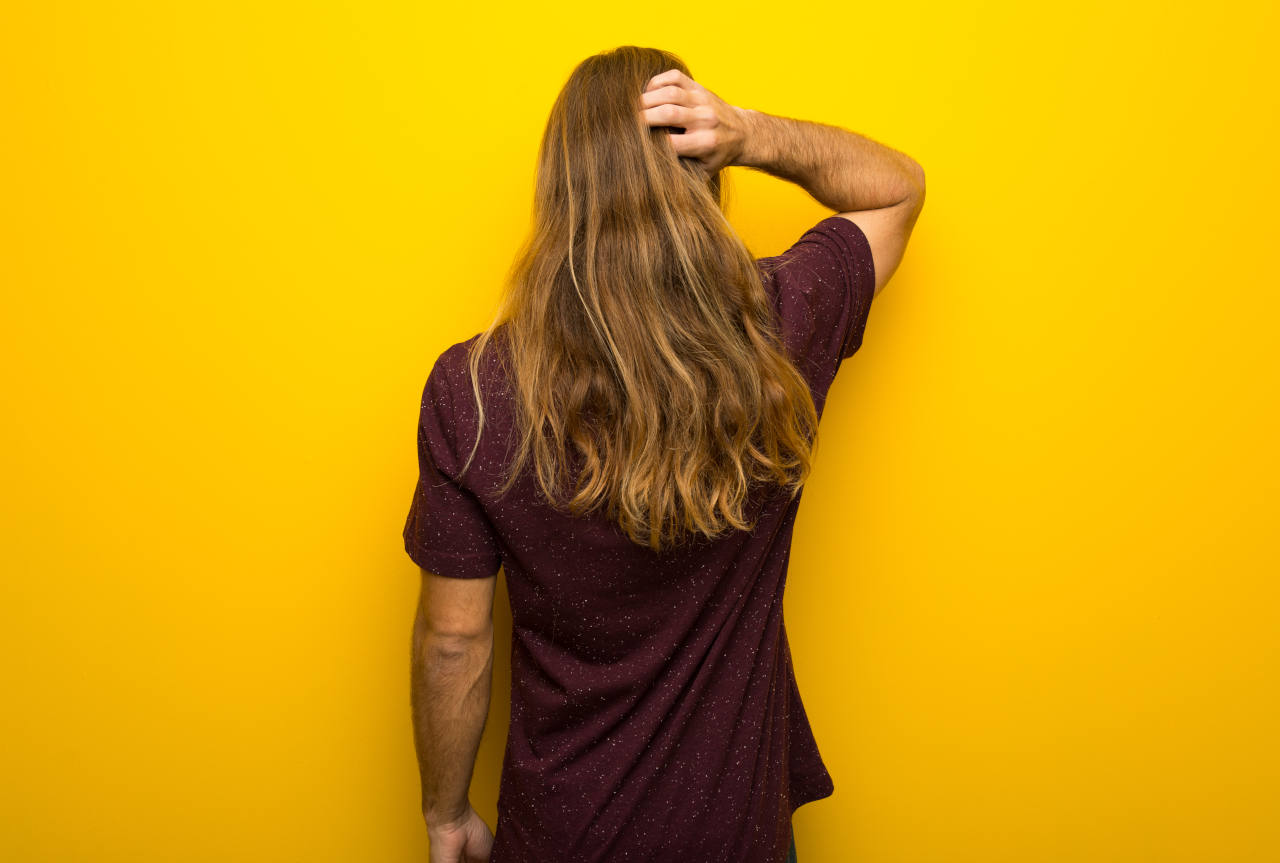 How to grow hair faster?
When you haven't got the patience to leave your hair to grow long by itself, you want the answers for how to grow hair faster. It may seem like long hair just happens for some people, but you need to try these tips to speed up the process.
So step aside Rapunzel! We're about to unlock 18 ways to get long hair in no time.
Summary
---
1) Give yourself a hairdresser-style scalp massage
---
The relaxing scalp massage the hairdressers give you isn't just designed to be relaxing. Scalp massages boost blood circulation to your hair follicles which stimulates cell production and hair growth.
It's evident that daily scalp massages cause hair to grow thicker as in 2019, a small study analysed how scalp massages in 68.9% of 327 men without a baldness condition, saw hair loss stabilisation or regrowth.
2) Stop washing your hair with hot water
---
It's no secret that heat is damaging to your strands. In the same way that straighteners dry out your hair, so does hot water.
The temperature of the water strips your hair of its natural oils and dehydrates your scalp resulting in dry, brittle hair. So try washing your hair with lukewarm water instead to reduce the damage.
3) Hot tools – turn the heat down
---
Any temperature above 200℃ will dry out your hair strands. It's best to avoid using hot styling tools, however, if you must use them then invest in tools with adjustable heat settings to reduce the amount of damage you cause. Thus, preventing your hair from drying out is one of the best tips for how to grow hair faster.
4) Apply a heat protectant with UV filters
---
In addition to reducing the temperature of styling tools, we also encourage you to use a heat protectant. This will stop the strands from losing so much moisture while being styled and the UV filters will provide a protective layer against the suns rays.
5) Cinnamon oil
---
How does cinnamon enable hair to grow faster? A study on rats determined that cinnamon oil improved the length of hair on male rats.
Cinnamaldehyde is the compound in cinnamon that is responsible for causing the hair to grow faster. How cinnamaldehyde works is by stimulating blood flow to the hair follicles which makes hair grow faster.
6) Sleep on a silk pillowcase
---
Cotton is ideal for clothing because it effectively absorbs moisture however it's too drying for your hair as it removes many of the beneficial natural oils.
As a result of this, your strands become dry, tangled, brittle and have more split ends. Silk pillowcases, on the other hand, don't absorb moisture in the same way as cotton, hence it's better for your hair.
7) Use keratin-based hair products
---
When hair is damaged, the fish-like scales of the hair shafts become raised, causing frizz. When the hair strands are damaged like this, hair growth slows down.
One way to repair the structure of the strand is with keratin-based hair products. These products work by nourishing the hair cuticle to smooth these scales down which creates stronger hair.
8) Stop using cotton towels to dry your hair
---
In a similar way to how cotton pillowcases dry out your hair, cotton towels have the same effect. However, the rough texture of these towels also causes friction on the surface of the hair. Swapping cotton towels for micro-fibre towels is one of the most important steps for how to grow hair faster.
9) Swap elastic hairbands for plastic spiral hair bobbles
---
Elastic hairbands wreak havoc on your hair because they pull your strands with too much tension, causing damage to your hair follicles.
If you always use these hairbands for your hairstyles then you will always be finding some strands coming out and wondering how to grow hair faster.
A better alternative is plastic spiral hair bobbles. These spiral bobbles are a lot more gentle to the strands thus reducing breakage.
10) How does caffeine make your hair grow faster?
---
A study in the International Journal of Dermatology tested the effects of caffeine on patients with androgenetic alopecia which showed that caffeine led to a significant stimulation of hair follicle growth. How the coffee is prepared is important in order to see the best results, seeing as "vitro" coffee was proven to grow hair faster.
11) Brush your hair correctly
---
Brushing your hair with the correct hairbrush or comb for your hair type is important for reducing breakage and effectively distributing these natural oils throughout the lengths. Boar bristle hair brushes are ideal for combing oils from the scalp to the tips to moisturise the hair strands.
12) Eat these foods to get sufficient fatty acids
---
Omega-3 fatty acids are one of the best nutrients for hair growth as it reduces inflammation which aids with hair loss prevention.
The body prioritises vital organs over hair, so it's important to consume sufficient nutrients so that the body can distribute them evenly. Read "Nutrients and foods for hair growth" to discover how to grow hair faster with proper nutrition.
13) How to grow your hair faster with rice water
---
Rice water is famous for promoting hair growth since the Japanese court women during the Heian period had hair to the floor, after bathing in the water. The antioxidants, amino acids and Inositol in the rice water repairs the hair from the inside out and acts as a protective barrier.
14) Apply natural hair mask each week
---
Hair masks are highly nourishing treatments that wrap your hair strands in beneficial nutrients to create healthy hair. You can easily make a hair mask at home using ingredients such as banana, avocado, coconut oil, aloe vera.
15) Try minoxidil to boost hair growth
---
Minoxidil is a medical treatment prescribed to hair loss patients in order to reverse and slow down signs of alopecia. How minoxidil encourages hair to grow faster is by increasing blood flow to the scalp and subsequently to the hair follicles. In turn, this stimulates new keratin production.
16) Ashwagandha for faster hair growth
---
Ashwagandha is often known as Indian ginseng and has been used for centuries for its powerful benefits for the body and hair. Indian ginseng helps with hair growth by controlling cortisol levels, stimulating antioxidants, improving blood circulation and reducing scalp inflammation.
17) Apply natural oils to your hair at home
---
Although all types of hair need moisture, the frequency that you apply oil to your hair varies. If you have coily hair, apply natural oils (such as coconut oil, black seed oil, olive oil, castor oil, or jojoba oil) to your hair 1-2 times per week. Whereas if you have fine, straight hair, only do this once every fortnight.
18) Wash your hair the right amount of times each week
---
Last but not least. In order to grow your hair faster, you need to strike a balance with how often you wash your hair. Overwashing it will cause your scalp to become dry and this slows down hair growth.
Whereas under washing it causes a build-up of oils, dead skin cells, and product residue that prevent your hair follicles from functioning properly. This is very unique to your own hair, but we suggest starting off by washing it every 2-3 times per week.
Have you tried Dr. Balwi's shampoo and hair spray?

Thanks to a unique combination of ingredients your hair receives the essential nutrients that nourish the roots and hair, and prevent their loss. Our shampoos and sprays are highly concentrated biotin, collagen and natural extracts (green tea, red ginseng). In addition unlike ordinary hair care products, ours tackle the problem at the root by cleansing the follicles and strengthening the shaft. Because a stronger and vitalised scalp produces more resistant and, of course, more silky hair!
Conclusion
---
If you want to know how to grow your hair faster with natural products then we recommend trying these top 18 tips. Although some methods may work better for different hair types, we're sure that you'll find several methods that work for your hair type.