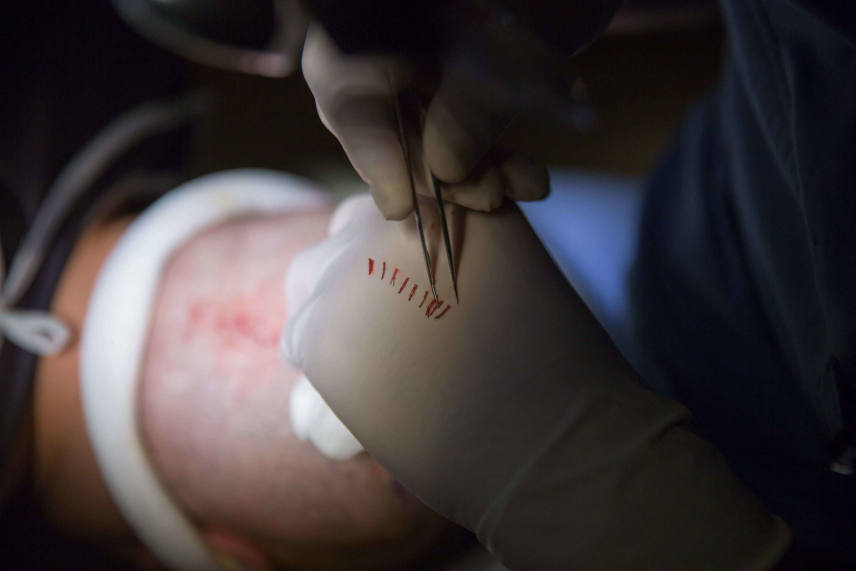 Preparing for your procedure: How does a hair transplant work?
Discover how our hair transplants work and how they are performed in the state-of-the-art Istinye University Hospital, located in the heart of Istanbul. Depending on the severity of your hair loss, the follicular unit extraction (fue) procedure can take between 4 – 9 hours.
But don't worry – there's a TV and you can choose what you'd like to watch, it will just feel like one of those days when you binge-watch a whole series in one sitting!
Summary
---
What happens before the hair transplant surgery?
---
Before your surgery, you'll meet with a senior member of the team at the hair clinic. They will conduct an in-depth analysis of your hair and provide medical advice. Using tools that magnify the hairs, the team will be able to clearly see the quality of your hair follicles.
This identifies the best donor hair (as we don't want to remove hairs from areas that are thinning). Because this just makes the situation worse rather than better. They will be searching for hair follicles that produce 2, 3, or 4 hair strands.
You'll also discuss your requirements with us in person, so we can realise exactly what you want. We will establish the perfect hairline for your face, and discuss this with you to ensure it's to your liking.
Then once you're happy with everything, you've asked any questions you need, and you've signed the patient consent form, the next step of the hair transplant begins.
How does a hair transplant work: what are the 7 stages of the procedure?
---
The preparation stage
After the doctor has marked your new hairline, marked the donor area and marked areas to be left untouched we'll shave your head.
We will give you a gown to wear, over your clothes, and we will apply a disinfectant solution across the scalp. Before starting the hair transplant procedure, we will also check your blood pressure to make sure everything is okay.
Applying the anaesthesia
The next step is applying the anaesthetic. We use the Comfort-In method which is a pressure-applied anaesthetic. Using high pressure, it's applied across the scalp for effective pain relief.
This method is ideal for patients who are anxious about needles, therefore it ensures a more pleasant application. Once the skin is anaesthetised the team start the procedure.
Are you asleep during a hair transplant?

During a hair transplant, you're not "put to sleep" you're still awake but we apply a local anaesthetic to numb the scalp. You're awake throughout the whole procedure and we have a TV set up so you can catch up on your favourite programs or movies while undergoing the treatment.
The graft collection stage
Each member of the team has a dedicated role to play. In this step, our dedicated graft collectors will extract hair follicles from the scalp using the FUE method. Their role is solely to extract the hair follicles from each patient.
Because these team members have been doing this step multiple times per day (for years) they're experts in graft collection. Therefore providing an exceptionally high level of service.
Opening the channels
The channel opening is a highly skilled stage of the process. It establishes the direction of hair growth and the spacing between each hair follicle. The previous anaesthesia process ensures that this stage is more comfortable.
How does a hair transplant work: Implantation of the hair grafts
After the hair grafts are extracted, they are put into a nutrient-rich solution. Then each individual hair is taken out from the solution and implanted into the channel openings. The duration of this process can take several hours as each hair graft has to be carefully implanted at the correct angle.
Follow-up examinations
Following the hair transplant procedure, a senior member of the team will check on the implanted grafts. They will also check for any bleeding and swelling and advice you on how to best look after your head during the first night post-op. You'll be given a headband to wear, medications, and treatments. You'll also be advised on how to best sleep.
In the morning after the operation, you'll have another follow-up appointment. A member of the team will carefully wash your hair and will talk you through how to wash it when you arrive back home.
Hair growth stage
It takes a year to see the full results of your hair transplant. The first few weeks will be an intensive healing stage where any scabbing will heal and fall off. During these initial weeks, all swelling will also go down. While the scabs are healing, it's imperative that the transplanted hair is washed carefully.
After a few weeks, hair shedding can be seen – you may notice hairs falling out when you're washing it. Don't panic when this happens – it's completely normal to experience hair shedding at this time.
This happens because the hairs are forced into the telogen stage after going through major surgery. When these hairs fall out, it doesn't mean that they won't grow back.
Although these hairs have fallen out, the hair follicles are active and will produce new hairs in the anagen stage. You will soon see new hair growth coming through.
Furthermore, you may experience itching in the donor area during the first few weeks of healing. Itching is a sign of skin healing on the transplant site, however, you should keep an eye on the area that itches to check for infection.
If you suspect infection you should have your head medically reviewed. To soothe the itchiness, we recommend applying Aloe Vera gel. The cooling sensation of the gel will help to calm the skin and stop the itchy scalp.
Conclusion
---
You need to bear in mind that a hair transplant isn't an overnight quick fix. Although the procedure only takes a few hours, the results are only fully seen months afterwards. It takes 12 months to see the results, however, you will see your hair growing more and more each month after the procedure.
Do you have more questions or are you suffering from hair loss issues? Then feel free to to contact our friendly team that will answer all your queries.
Furthermore they can also offer a free and non binding hair analysis. So don't hesitate if you want to benefit from Dr. Balwi and Elithair's expertise for a successful and affordable hair transplant in Turkey!