Everything you need to know about hair restoration
Hair loss and hair thinning can occur for a number of reasons: medical conditions, genetics, hormonal changes, diet and the natural ageing process. Some types of alopecia are temporary, but others are permanent, like male pattern and female pattern baldness.
Balding isn't just subject to the hair on our heads though, you can lose hair on your eyebrows as well as your beard. But the good news is that there are a number of treatments for hair restoration that are highly effective. This is proven with strong success rates and reviews from patients.
Summary
---
How does a hair transplant work?
---
With a hair transplantation the surgeon removes donor hairs you have from an area unaffected by alopecia and transfers them to parts of the scalp with thinning hair or where it is entirely bald. It's an outpatient procedure that's overseen by our specialist hair transplantation surgeon, Dr Balwi, that helps with a range of hair loss issues from male pattern baldness to traction alopecia.
There are just a few steps to hair restoration surgery – from the beginning until you see the final results 12 months later. Each of the Elithair specialists has a different role to play within this process. Because of this, each team member is specialised in their job and ensures a high standard for each individual patient.
Procedures only take a day, and most patients can return to work between 7 – 10 days after treatments. Post-operative care involves being extremely careful with your transplanted hair for the first two weeks. Also, you should avoid heavy exercise in the first few weeks because excessive sweating can negatively impact the hairs.
The transplanted hair usually falls out within two to three weeks, leaving you with a bald head, ready for the new hair to regrow. New growth occurs within a few months and the optimal growth after a hair transplant surgery can take up to a year.
How can I restore my hair growth?
---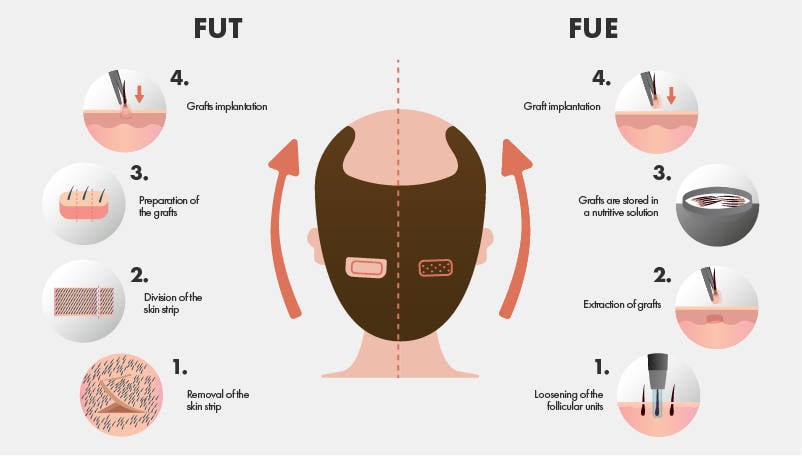 If hair loss is something you're looking to fix, there are a range of options. Finasteride and Minoxidil are common medications for pattern baldness. However only Minoxidil is suitable for both men and women to help with growing hair.
Furthermore, these treatments don't always work for everyone and they only work for as long as they're used. They also have substantial side effects that can persist even after you stop using the medication including high blood pressure and erectile dysfunction so should be taken under medical advice.
For those wanting to permanently restore their hair, a hair transplant procedure is the most effective, long-term solution. The surgery restores hair to areas of the scalp where hair is lacking or absent and provides new growth with long-lasting, natural-looking results.
What type of hair transplants are performed at Elithair?
Does hair restoration really work?
---
How much does the average hair restoration procedure cost?
Our hair transplant costs are calculated on a patient by patient basis. There's no "one size fits all" procedure that comes with a fixed cost. The cost is completely individual and based on the severity of your hair loss and how many hair grafts you'll need. To get your unique quote, simply fill out our hair calculator form (it only takes 2 minutes) and we'll call you back with an accurate price.
Many balding patients travel to Turkey for a hair transplant because the procedure costs a fraction of what it would in the UK. This isn't because the quality is lower, it's because the living costs and overhead expenses of the clinics are lower in Turkey. Therefore, Elithair can afford to provide more cost-effective treatments while ensuring market-leading quality.
Is it worth getting a hair transplant?
---
If conducted properly and with qualified and experienced transplant surgeons, getting a hair transplant is a great decision for those worrying about their hair loss. Be sure to choose a market-leading hair transplant clinic with expert staff who have been performing this treatment for years.
Are there any side effects of hair restoration?
All invasive procedures put a strain on our bodies and some side effects can occur from hair transplants. Certain side effects may occur during or after a hair transplant including minor bleeding, swelling, and itching.
Follicular unit transplantation (FUT) and FUE methods are the most common techniques, but due to the strip of skin removal which causing scarring with FUT, the FUE procedure has become the favoured technique.
Infections are possible however with the right hair transplant clinic these complications are rare due to high-quality tools and hygiene levels. To further minimise the risk of side effects and infections, Elithair has a life-long follow-up service. All of our past patients can contact us months or years after the surgery with any questions. Post operative patient after-care is very important to us.
Does hair restoration last?
Hair transplants have been proven to be the most successful and permanent method of hair restoration. Once the new grafts have been correctly implanted they will provide healthy hairs for 30 years on average. This keeps them in line with the rest of the hair on your head for a natural appearance as you age.
Conclusion
---
Hair transplants are the perfect hair restoration treatment for those looking to regrow their hair and cure their self-confidence issues. This surgery is the only long-term cure to hair loss that doesn't have negative, life-changing side effects. Join our 35,000+ happy patients that already have benefited from this life-changing treatment.