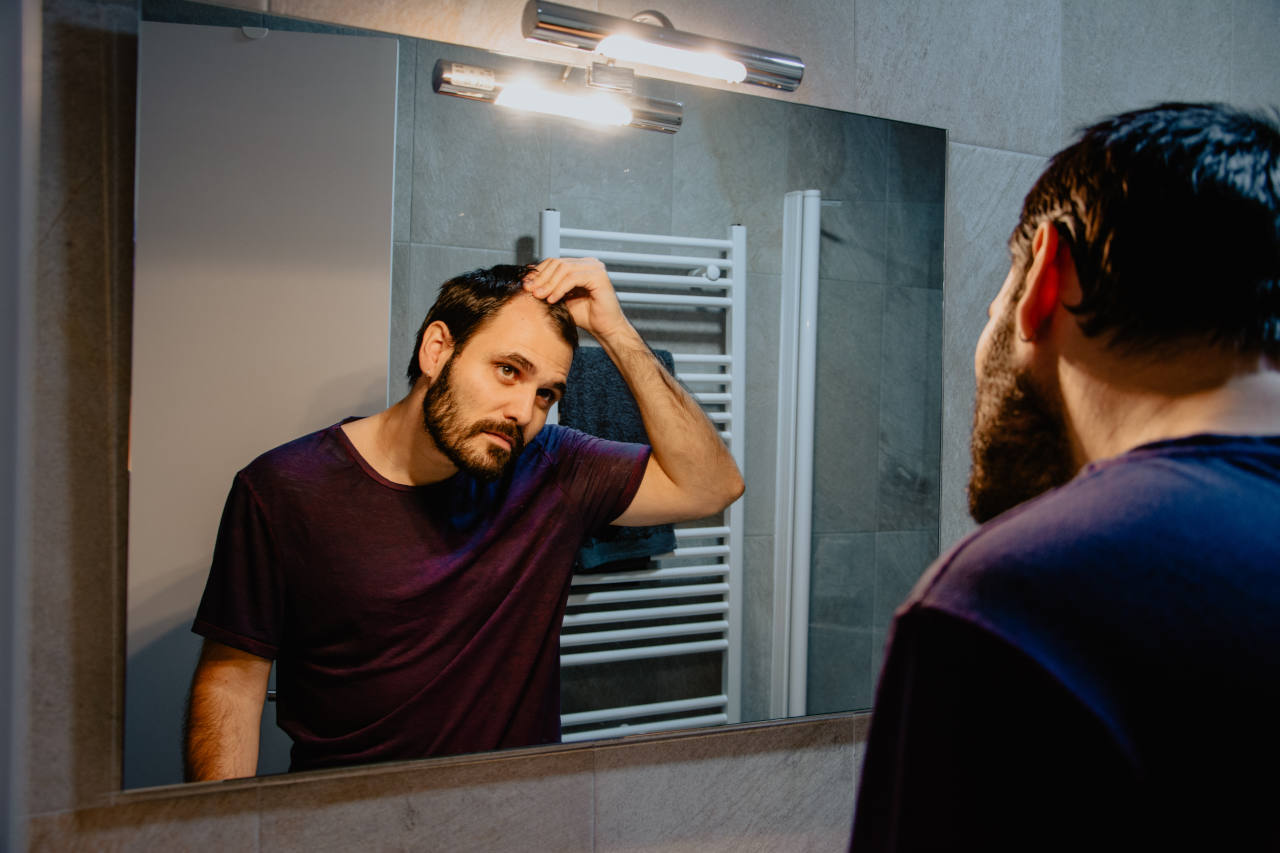 How to know if you need a hair transplant, and how to make sure it's a good one
Hair loss affects a large percentage of the world population, but most people try to hide it until they no longer can. Hair loss can be temporary or it can be permanent. Temporary hair loss includes hair loss from medical treatment (e.g. chemotherapy) whereas permanent hair loss is caused by conditions like pattern baldness. A good hair transplant can restore the hair in these areas to create a naturally dense head of hair for permanent hair loss.
How do you know if you need a hair transplant and how to make sure you're getting the best one? We'll go through everything you need to know about hair transplants and help you decide if it's the right choice for you.
Summary
---
What is hair restoration surgery?
---
Hair restoration surgery, involves taking hairs from an unaffected area of the head and transferring them to bald patches where the scalp is either entirely bald or thinning.
They're the most successful form of hair restoration for anyone losing their hair. Thus a good hair transplant is virtually indetectable thanks to modern techniques.
What happens during the operation?
Hair surgery usually take around one day to complete. During a hair transplant, the good hair follicles (found in the donor area), usually at the back of the scalp, are first extracted.
Then they are briefly stored in a nutrient-rich solution before being implanted into the balding areas. There are 3 different techniques that we use at Elithair:
Sapphire Hair Transplant
Percutaneous
In the industry, there are two types of methods for extracting hair follicles. However, we only use FUE (never FUT). Here are the differences between the 2 techniques:
Follicular Unit Transplantation (FUT):
A thin strip of skin is removed from the back of the head and divided into pieces that contain hair grafts. Dissecting the strip of hair reveals the individual hair grafts which and then implanted into the balding areas later. The area of the scalp where the strip was extracted from, then gets closed with stitches (leaving a linear scar).
Follicular Unit Extraction (FUE):
During the FUE procedure, individual hair follicles are first loosened using a hollow-needle tool with a micro motor. After this first step, the hair follicles are extracted one by one and placed into a nutrient-rich solution.
This causes little to no scarring because the circular incisions made by the extraction tool are incredibly small and heal effectively.
What's the difference between FUE and FUT?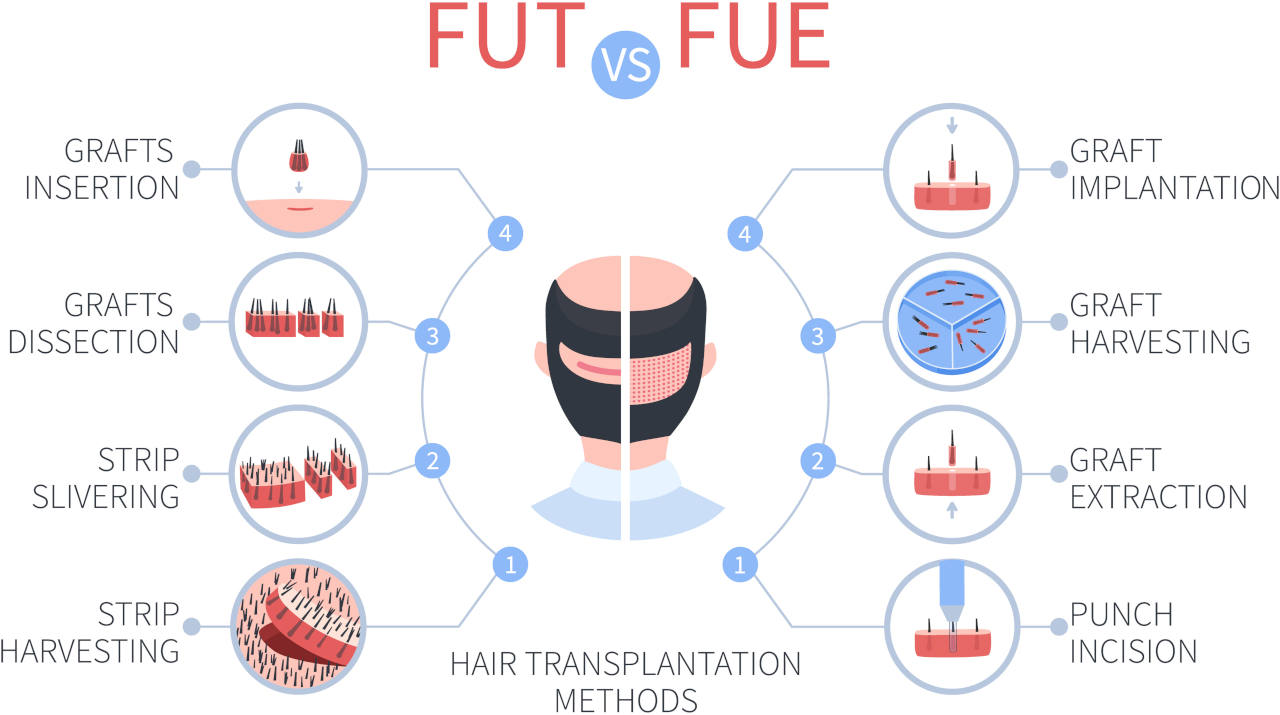 With the FUE technique, individual hairs are taken directly from the donor area to the recipient area as opposed to removing a strip of skin as done with the FUT.
This results in less scarring, this is the method we always use here at Elithair. Patients must be careful with their hair for 2 weeks after the procedure and take it easy.
After a few weeks, the transplanted hair will fall out and then begin to grow back. After six months new hair will start to appear and by 18 months the full results should have completely grown.
Are there other methods of hair restoration?
Minoxidil and Finasteride are treatments that can be used by individuals experiencing hair loss to prevent further hair fall. Men can use both treatments whilst women can only use Minoxidil due to its negative effects.
The treatment is topical and requires a strict application routine to work effectively. Futhermore these treatments only work as long as it is used. It can also cause a range of side effects from irritation and dryness to stinging and shedding.
How do I know if I'm a good candidate for a hair transplant?
---
People experiencing permanent hair loss, such as male pattern or female pattern baldness, are able to get a hair restoration.
However, hair surgery isn't suitable for those with serious health complications, are allergic to anaesthesia, or anyone with haemophilia.
Hair density plays a big role in determining good hair transplant candidates, those with good density in their donor area are ideal. If there isn't sufficient hair density then finished result won't look as natural.
Can you be too bald for a hair transplant?
Yes, it is possible to be too bald for a hair transplant because you need sufficient hair in your donor area in order to perform a hair transplant effectively. The donor area is usually at the back of your head and individual hair follicles are extracted from this area (using the FUE method). Then they are implanted into the bald areas.
However, if there isn't enough hair to create a natural, undetectable aesthetic then this hair restoration technique won't be possible.
Can anybody get hair restoration surgery?
People suffering from hair loss who are over the age of 18 are suitable for hair transpantation surgery, although there are other factors that need to be considered. Anybody with temporary hair loss should not get hair transplantation because their hair will grow back after their medical condition resolves. Furthermore, there are long term medical conditions that are untreatable with hair transplantation – but during your hair analysis we will be able to determine whether you are a suitable candidate.
The ideal age for a hair transplant is between 20-50, which is quite a broad range. Depending the cause of your hair loss anyone within this age range can benefit from hair restoration.
Where should I get a hair transplant?
Due to the quantity of highly experienced medical staff, Turkey is one of the most reputable countries to have a hair transplant.
At Elithair, the price for an FUE hair transplant in Turkey starts from 1,790Euros. The price of FUE hair transplants is slightly higher than those of the older FUT method. This is due to a more sophisticated technique and the longer duration of the surgery.
How to get the best results from a hair transplant?
Here at Elithair our team have been working hard on NEO FUE, a revolutionary stem cell serum that prepares the hair and scalp for a hair transplant.
It has a brilliant impact resulting in beautifully transplanted hair. NEO FUE awakens hair follicles and enriches the microenvironment and is exclusively for Elithair patients.
It's important to use it before a hair transplant and apply it with a dermaroller 7 days before the treatment and then the day before treatment occurs.
Neo Fue is a new addition to transplant techniques and has been tested on numerous patients with increased strength and firmness of hair follicles.
The grafts are more resistant to external environmental factors during harvesting and increase the effectiveness of FUE Hair transplants by up to 30%.
Conclusion
---
A good hair transplant is typically defined by whether the final results look natural, and whether it's performed by a good hair doctor.
In addition, the price of the surgery in relation to the results are often the criteria for what makes the best hair transplant surgery.
To see whether you are a suitable candidate for hair restoration surgery you can send us pictures of your hair loss situation with our online assistant.