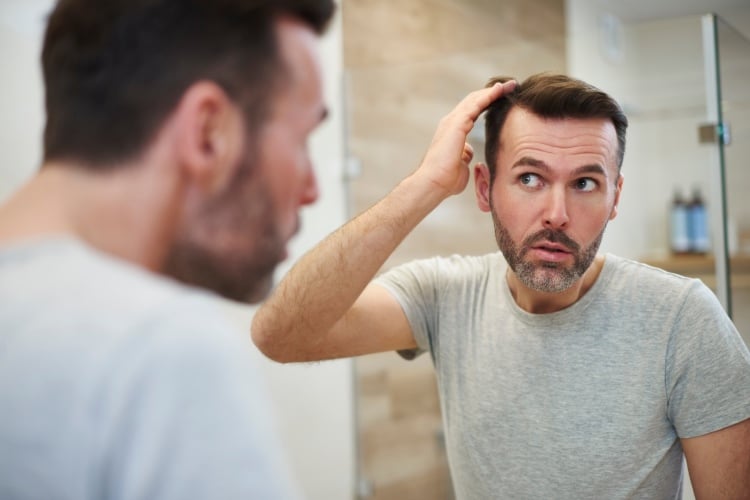 Anti Hair Loss Helmet – Persuasive Marketing or a Revolutionary Invention?
The search for an effective hair loss solution has birthed a spectrum of methods, including medications, hair transplants, and now, a seemingly unique helmet that aims to halt hair loss.
But is this the all-for, one-all invention it claims to be? Will it revolutionize the hair loss industry, or does it still have hurdles to overcome? We weigh the current hair loss treatment options with the new anti-hair loss helmet and shed light on its functionality, applications, as well as potential pros and cons.
Summary
---
The Current Types of Hair Loss Treatment Methods
Current common hair loss treatments in the market:
Hair Transplant: In a hair transplant, surgeons surgically transplant hair follicles from a donor area to bald patches. This method is the most effective treatment for hereditary hair loss and can provide permanent results that last a lifetime.
Topical Medications: Finasteride and Minoxidil are common medications used to slow down hair loss and strengthen existing hair. While medications can yield positive results, they may have side effects and require continuous topical application to maintain their effectiveness.
Shampoos: Special shampoos against hair loss are readily available in the market. These contain ingredients like Biotin, Caffeine, or Zinc, aimed at promote hair growth. Usually, shampoos alone do not provide significant results and are primarily used as enhancers in combination with other treatments.
Natural Treatments: Various natural treatments, including essential oils, scalp massages, and a nutrient-rich diet, help stimulate hair growth. Though benefical for maintaining good hair health, the effectiveness of these methods has yet to prove lasting results.
Laser Systems: Laser therapy for hair loss utilizes low-energy laser beams to stimulate hair growth. However, the exact internal mechanism remains unclear. Disadvantages include varying results, repeated session time, high costs, and potential skin irritations and headaches.
What is the Anti-Hair Loss Helmet Actually?
The German company Niostem has developed a helmet apparently designed to stop hair loss. Dr. Chacón-Martínez, a researcher specializing in hair stem cells and skin biology, is the brain-child behind it.
The helmet aims to halt hair loss and promote growth without medications or invasive procedures.
When Does the Helmet Help?
The helmet specifically targets individuals aged 18 and above with hereditary hair loss. This is classified as stages II to V on the Elit Scale, A-II to A-V, B-II to B-IV, and C-II to C-IV.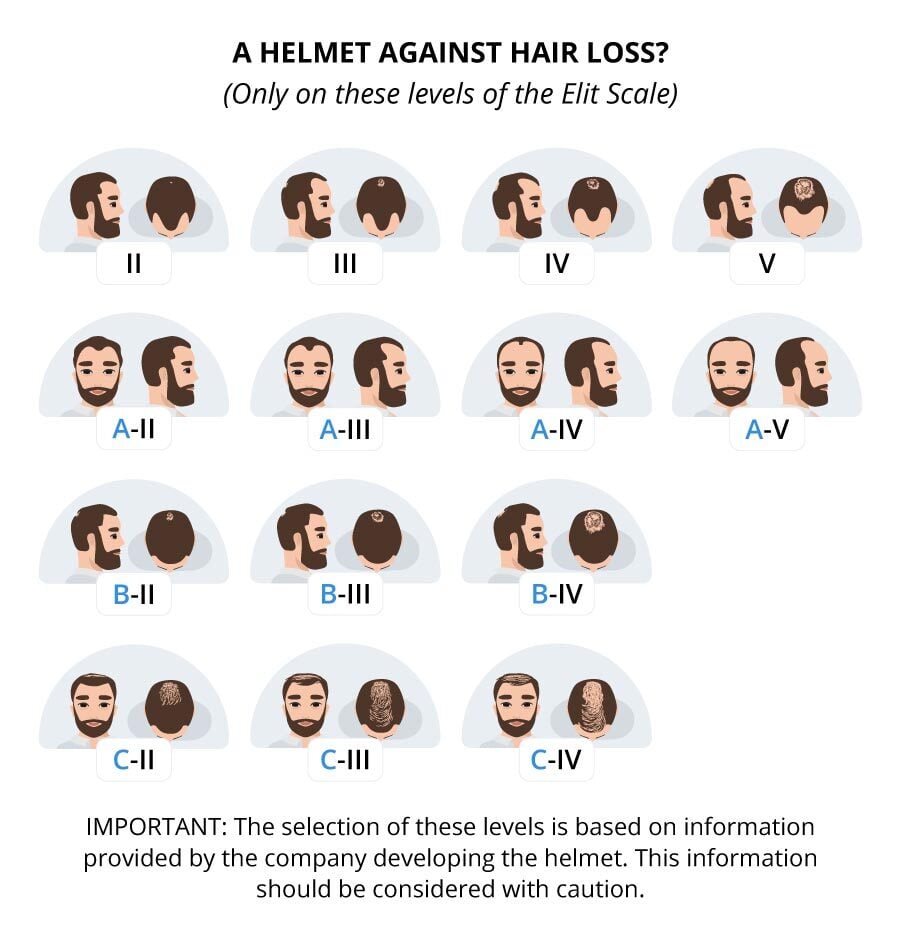 It's important to note that the helmet can only yield results in the early to moderate stages of hair loss. In advanced hair loss, inactive hair stem cells for a prolonged period make re-stimulating hair growth more challenging. There are no current specific studies on how the helmet works on women. The helmet's effectiveness against hereditary hair loss in females requires further research.
How Does it Work?
The helmet operates on three principles:
Bioelectric Stimulation:Weak bioelectric stimulation reactivates dormant hair stem cells in the follicle. This process intends to transform stem cells into so-called progenitor cells that stimulate hair growth.
Strengthening the Follicles: The reactivated stem cells are expected to strengthen the hair follicles, which may result in healthier and thicker hair production.
Continuous Application: Continuous and daily use of the hair loss helmet is crucial to maintain healthy hair. It is important to note that the hormone DHT, which is the main cause of hair loss, remains present in the body. Therefore, it is recommended to use the helmet daily to sustain the desired effect.
How Effective is it?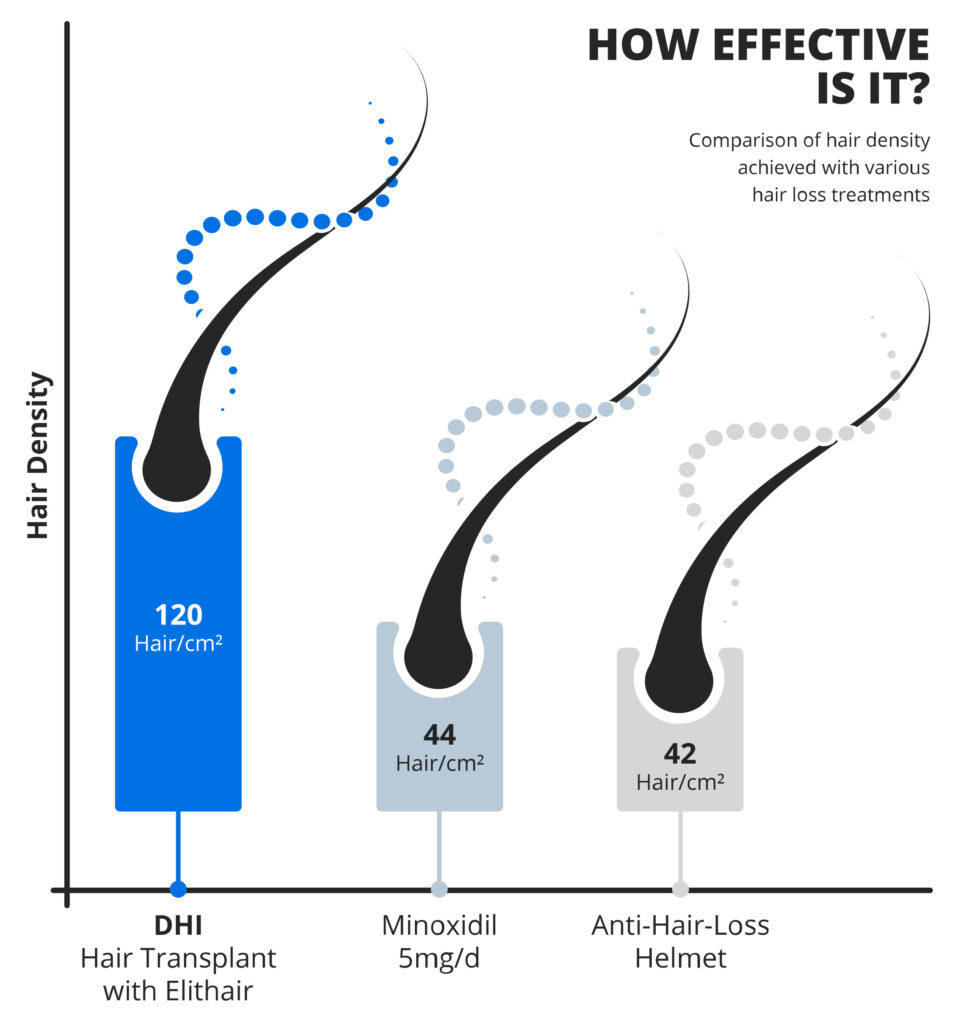 In the pilot study, the developers found that the Niostem helmet can achieve a hair density of around 42 hairs per square centimeter. In comparison, hair transplants using the DHI method achieve a significantly higher hair density of around 75 hairs per square centimeter. Medications, on the other hand, achieve lower values of approximately 12.3 hairs per square centimeter for Minoxidil and 7.2 hairs per square centimeter for Finasteride.
No specific studies on the anti-hair-loss helmet, apart from Niostem's pilot study, currently exist. Since the helmet is still in the testing phase, its effectiveness calls for further research.
Is it Possible to Combine the Helmet with a Hair Transplant?
Doctors use medications in some cases before a hair transplant to stop hair loss. The goal of the helmet's developers is to make these medications obsolete.The helmet aims to stop hair loss without regenerating hair growth in areas without hair follicles, possibly replacing medications.
However, the helmet cannot serve as an alternative to a hair transplant. Instead, it may serve as a future supplement to enhance the most effective and long-lasting solution against hair loss. This requires further research expansion and new investigations.
Helmets Aren't Yet Transplant Alternatives
Once researchers complete the testing phase and conduct further investigations, they can consider a helmet for hair loss as a potential addition to existing methods but not as a substitute for a hair transplant. The helmet aims to stop hair loss and strengthen existing hair, but it is not capable of generating new hair growth in bald areas.
In the future, the helmet could serve as an alternative to medications, but it will never achieve the quality and hair density of a hair transplant. It is important to note that the helmet is currently undergoing testing, and we should await further research results to better assess its effectiveness and potential benefits.
The experts at Elithair are available for a non-binding consultation to explore your individual possibilities.