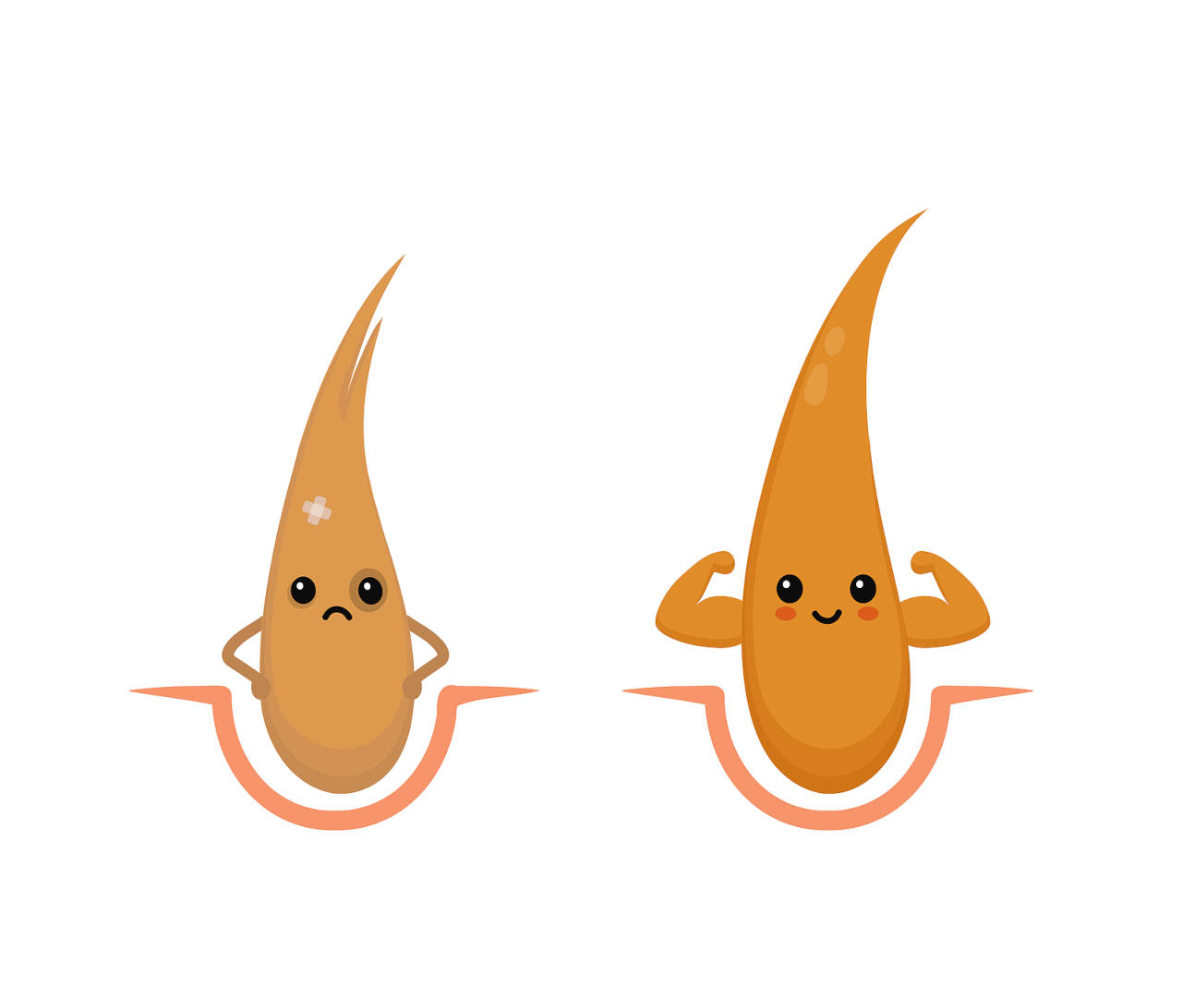 Which 5 plants help to strengthen the hair?
Although it is known that at certain times of the year the hair loss is more prominent (for example in the autumn), this is also due to weak hair and hair breakage.
We know that hair loss can be caused by a number of factors, but one of the main ones is free radicals. Which cause accelerated ageing of the cells and, as a result, degeneration of the hair follicles.
To maintain a strong scalp and hair, it is important to ensure that they're supplied with the necessary nutrients. There are products on the market that can help, but natural products are less aggressive on your scalp. In this article, you'll discover the 5 plants that help strengthen your hair.
Summary
---
Aloe Vera
---

Aloe vera has nineteen amino acids that are essential to the formation of proteins – in addition to vitamins A, C, E, B1, B2, B3, B6, B12 and B13. Moreover, aloe vera has more than twenty minerals that help strengthen the hair.
Thanks to its numerous properties, it is very effective at forming strong hair. furthermore, its intense moisturising power nourishes the hair shaft. But it is worth mentioning that only the gel within the stem should be used because this contains the most nutrients.
to use the gel as a deep conditioning treatment, extract the gel from fresh aloe vera stems. Alternatively, you can buy the gel that's already been extracted and apply it all over your hair.
To apply the aloe vera hair mask:
Run the mixture from the hair root to the tips
Secondly, cover your hair with a cap and let it sit for at least 30 minutes
After this process, you have to wash your hair normally. The application should ideally be once a week, or at least every fortnight.
Rosemary, a natural plant to strengthen the hair
---
Native to the Mediterranean, rosemary has been used for centuries for medicinal purposes. this essential oil is rich in antioxidants that fight against free radicals and are, therefore, a good choice for hair nutrition. Rosemary is good both to strengthen the hair (especially weak hair) and to prevent hair thinning.
It has a "miracle" action in the fight against oiliness and thus helps protect your hair from shading. In fact, this is the great primary function of rosemary in hair care. To use rosemary for your hair, you can use it in oil form and combine it with a carrier oil such as coconut oil. Let the treatment sit for about 1 hour and then use shampoo and conditioner as normal to rinse it out.
Have you tried Dr. Balwi's hair care shampoo?

Thanks to a unique combination of ingredients your hair receives the essential nutrients that nourish the roots and hair, and prevent their loss. Our shampoos and sprays are concentrated in Biotin. In addition unlike ordinary hair care products, ours tackle the problem at the root. Because a stronger and vitalised hair root produces more resistant and, of course, more silky hair!
Jaborandi
---
Jaborandi (also known as arnica) is a herb that belongs to the sunflower family. It's been used for centuries for medicinal purposes and is often found within hair care products. In oil form, Jaborandi helps prevent hair loss, soothes dandruff, repairs split ends and is believed to delay premature greying.
This ingredient has properties that stimulate blood circulation, and thus contributes to strengthen the hair. Additionally, it's known for its antimicrobial, antiseptic and antibacterial properties. Therefore, the plant is widely used to aid in the treatment of hair growth.
Using Jaborandi oil as an oil treatment on your scalp rejuvenates the skin and hair follicles which in turn stimulates healthy hair growth.
Strengthen the hair with mint
---
Mint also has antioxidant properties, it helps conserve collagen from the skin and hair. In addition, mint is a potent anti-androgen. Specifically, it binds to free testosterone in your system.
This is excess testosterone, which is stored in the scalp (where it will convert DHT) contributes to hair loss. Moreover, mint is rich in menthol which effectively stimulates blood flow to the scalp and hair roots. This promotes healthy hair and helps to prevent thinning hair.
Mint can be administered in several ways:
Mint tea is the most common form, although it is only effective if you are using fresh, unprocessed mint.
There are also mint extract tablets.
For topical use, mint tea and mint essential oil can be used.
Burdock
---
Burdock is a very well known plant in Europe and has very effective action in combating dandruff, oil control, and hair loss. It has antibiotic, hypoglycemic, depurative and alkalizing action, diuretic, sudorific, anti-dyspeptic and capillary tonic.
Burdock applied directly to the scalp penetrates the hair bulb, cleans and detoxifies it by improving dandruff and eventually strengthen the hair. This plant is very effective against hair loss obtained with 10g of burdock root cut into very small pieces and cooked in little water.
When used as a hair rinse it is effective for any hair type and works to effectively strengthen weak hair. Once the root is sufficiently soft, it should be crushed and mixed with a little water, then rubbed into the scalp once a day.
Conclusion
---
External factors including heat styling, excessive washing and chemical dyes damage hair. Excessive heat from hot styling tools causing hair to dry out and consequently hair breakage occurs. Introducing a natural treatment into your hair care routine will help to maintain strong hair and encourage healthy hair growth.
These 5 plants are effective to strengthen the hair, but there are also foods that you should include within your diet to further booth your hair's health. Additionally foods like egg yolks, banana and avocado create highly nourishing hair masks and leave in conditioners also provide a boost of nutrients.