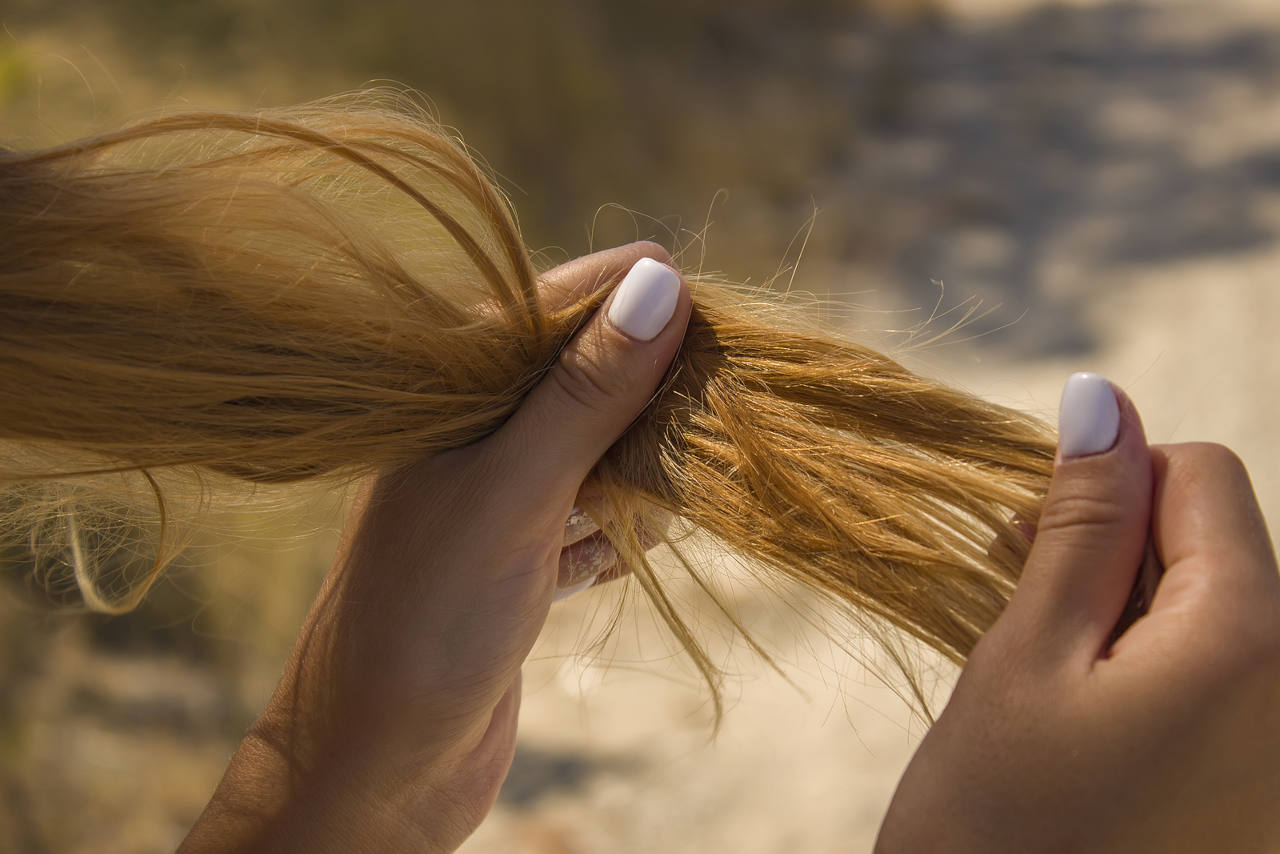 How to treat dry hair naturally
Your hair is your crowning glory, and it speaks of who you are and how confident you look. So when it becomes dull-looking, you must make your hair health a priority. Many people have admitted to suffering from dry hair woes at some point in their lives.
Brittle, straw-like, broken and frizzy hair does nothing to make you feel healthy and confident. Below, we will share why dry hair happens and four natural, effective ways you can rediscover beautifully, nourished hair.
Summary
---
What causes dry hair?
---
Overuse of heating tools
Blow drying your hair too often, using straighteners, and curling irons can remove your hairs natural protective layer. Make sure to use a good heat protectant when styling. Instead of drying your hair on a daily basis, allow your hair to air dry naturally after washing it.
Over-washing your hair
Much like hot tools can strip your hair of moisture, over-washing your hair can strip off the natural oils that help to seal the moisture. When using shampoo and conditioner, be sure that it doesn't contain alcohol or other harsh chemicals that strip your hair's natural protection. Use products that contain nourishing oils, like Coconut oil, Argan oil and Black Seed Oil.
Indulge in a deep conditioning hair mask once a week and rinse it with cool water to seal in moisture.
Harsh chemical treatments and bleaching your hair
Chemical treatments that straighten, curl and bleach your hair cause excessive damage. It can strip all the natural protective oils that give your hair that beautiful shine.
Whenever possible, refrain from over-processing your hair. The sun can also bleach and damage your hair. Therefore, protect your hair with a hat if you are planning to be in the sun for extended periods of time.
4 natural ways to treat dry hair
Here are 4 natural, effective ways to safely nourish your hair and make it beautifully shiny again. The best part? These hair care treatments can be found in your kitchen cupboards and fridge! No need to spend extra money on treatments that only temporarily cover up the issue of dry hair.
1. Eating healthy food equals healthy hair
You are what you eat. The saying is true, your diet plays a very important role in keeping your hair and skin healthy. What you eat can impact the growth, strength and volume of your hair.
Here is a list of foods that can improve the health of your hair and skin:
Eggs – An excellent source of protein and biotin which are the building blocks of the hair structure.
Brazil Nuts – A great source of selenium that can boost hair growth.
Fish – Contains Omega 3 fatty acid which promotes hair growth and helps to restore moisture. Try Salmon, Mackerel or Tuna to get these amazing Omegas.
2. At home warm oil treatment mask
Nourishing natural oils add beautiful shine and hydration to your hair. These oils can be very beneficial, especially if you have very dry, curly or frizzy hair. Oils, when warmed infuse the hair with nutrients and stimulate the scalp with much-needed blood flow. Here are oils that are very beneficial for your at-home warm oil treatment masks:
Coconut Oil – Improves hair growth and prevents hair breakage as well as hair loss.
Argan Oil – Filled with fatty acids such as linoleic acid, which helps prevent breakage and seal the length of the hair shaft, which helps maintain moisture levels.
Black Seed Oil – Also known as Nigella Sativa or Black Cumin oil. This oil is a beauty secret from the Ancient Eastern world! Rich in antioxidants and nutrients that help to regrow hair, it is anti-inflammatory and anti-microbial, removing dandruff on the scalp.
Instructions for your at home warm oil treatment mask
Warm ⅓ cup of oil in the microwave using a small heat-safe container.
Massage the oil very thoroughly into the scalp to stimulate blood flow, about 10 minutes of massage.
Wrap your head and hair in a warm towel and blast it with a blow dryer to continue warming the hair for a few more minutes.
Leave in for 30 minutes to 1 hour.
Shampoo well to remove all the oils and use a deep conditioner to re-hydrate your hair.
3. Mayonnaise hair mask
Mayonnaise hair masks can be very beneficial for your hair. Especially, if you have dry frizzy or curly hair. Mayonnaise is a mixture of oils, egg yolk and vinegar or lemon juice. These ingredients are excellent for making your hair smooth and silky.
Here is how to do your Mayonnaise hair mask.
Wet your hair. Masks are better done on damp hair as it aids in the absorption of ingredients.
Apply approximately 1 cup (more or less depending on the length of your hair) of mayonnaise from the roots to the ends of your hair.
Make sure to have even distribution throughout your head. Use a wide-tooth comb to massage the scalp and evenly spread the mask.
Shampoo well to remove all traces of the mask and deep condition to hydrate your hair even further. Make sure not to use excessively hot water as the egg in the mask may begin to cook!
4. Banana, coconut oil and honey hair mask
Bananas have a high silica content and can aid in smoothing out frizzy hair. Honey is very moisturizing for the hair and it can lock in shine as well. Here is a hydrating hair mask you can try at home:
Mash one banana until smooth
Add 1 tbsp of honey and mix well until you have a smooth consistency.
Apply and massage into the scalp as well as the ends of the hair to help smooth out any split ends.
Leave the mask on for 15 minutes.
Shampoo and condition as normal.
How to treat dry hair : conclusion
If you're suffering from dry hair problems, try the tips shared in this post for the next 30 days. You will see a big difference in the health and appearance of your hair. Remember to always nourish your hair well with oils like Black Seed Oil.
Protect your hair from harsh chemicals, the sun and blow drying. Shampoo and condition your hair less often and do a final rinse with cool water. Add healthy foods to your diet to bring nutrition into your hair from the inside. Once a week, try one of the masks listed above and your hair will be beautifully shiny.