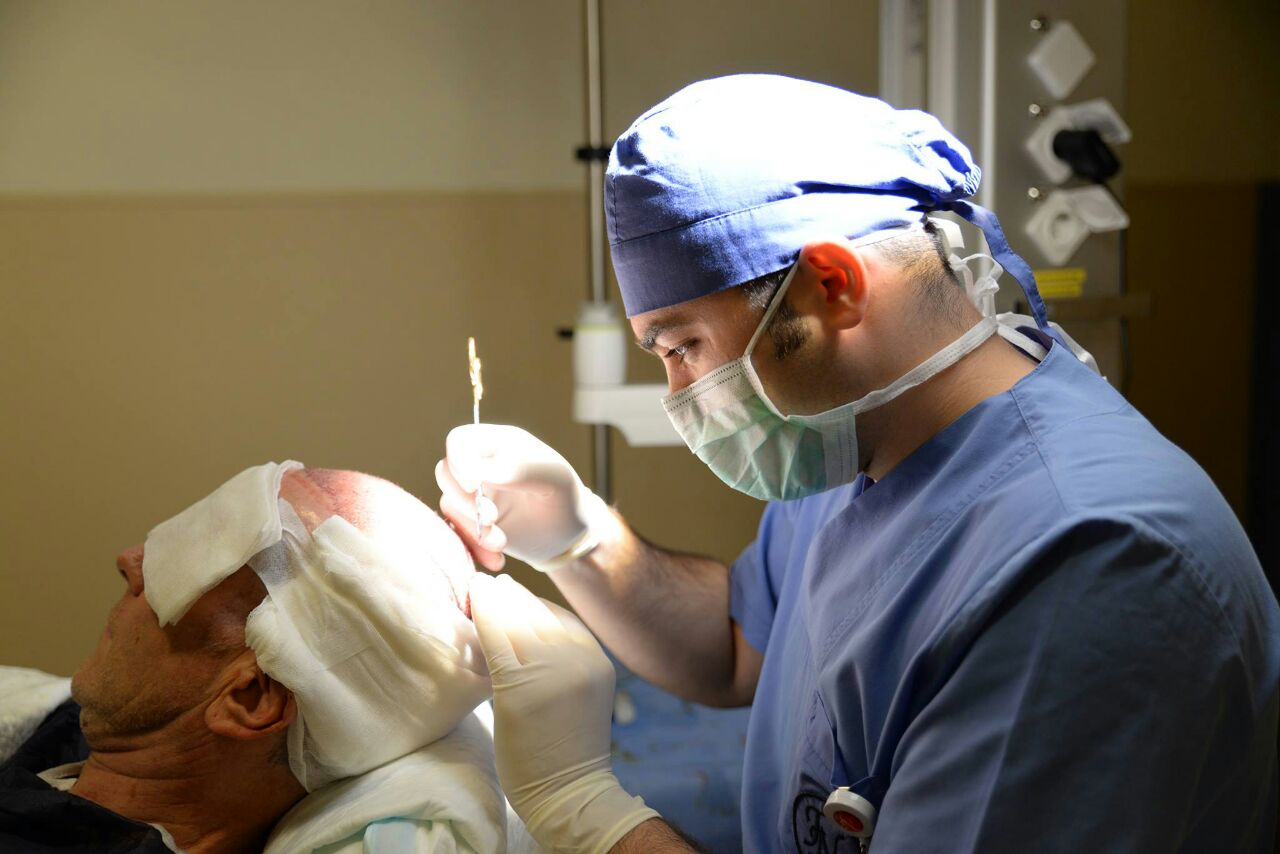 How is a hair transplant surgery performed?
When looking for hair transplant surgery, many questions may arise, such as which techniques are used. There are several methods used today, but Elithair always us the FUE procedure. This is because we can achieve the most natural-looking results with very little scarring.
We have been performing the FUE technique on our thousands of patients since 2009. This extensive experience has led us to be experts in the field. Furthermore, Dr Balwi has developed his own innovative techniques that further enhance the treatment.
Summary
---
Which techniques does Elithair use for their hair transplantation?
---

At our hair loss clinic, we perform the Follicular Unit Extraction (FUE) method for each hair transplant surgery. This includes beard transplants and also eyebrow transplants.
Basically, this method consists of the extraction of follicular units. They are small groups of one, two, three or four hairs together with the hair bulb. They are taken from the donor areas and implanted into the bald patches or areas of thinning hair.
The channels for the implanted hairs are then created using a sapphire blade. The individual hairs are implanted into the channels in the correct, and natural direction that hair grows.
A brief overview of the hair transplant surgery process
---
After contacting us we will determine whether you are suitable for hair restoration surgery. Using pictures of your current hair loss we will analyse what the best technique is to achieve your desired results.
Our experts then discuss what's possible to restore your thick hair. When you're happy with everything and place the order with us, then we arrange your appointments and accommodation.
On your arrival in Turkey, we collect you from the airport in our VIP shuttle and bring you to the clinic for a quick blood test. Then we drive you to the hotel where you can relax and spend the day exploring Istanbul.
The next day is your hair transplant surgery. You'll have an appointment with one of our hair doctors who will answer any last questions you may have. Then, your hair transplantation begins:
The preparation stage
The first stage of hair transplant surgery consists of a complete overview of the patient. We will take a blood test to ensure that your health is in good condition prior to the operation. Then the hairline will be discussed and drawn onto the head. This will then be agreed upon with you before the surgery starts.
When you're happy with everything, we will prepare you for surgery. When the strategy to be followed has been approved, the medical team will decide on the best method(ie shaving the whole existing hair or just the donor area).
Applying the local anaesthetic
Once we have decided where the best donor area is, we will then apply a local anaesthetic across your scalp. We do this using the Comfort-In method, which is a pressure-administer anaesthetic. This is ideal for patients who are anxious about needles.
Extracting the individual hairs
Once the anaesthetic has taken action, our team begin to extract the follicular hair units. All the individual hair follicles are stored in a nutrient-rich solution to maintain the hair strength in the meantime. We do this because while the hairs are away from the blood supply they can weaken, which can cause a low success rate of the implanted hairs.
Creating the channel incisions
Once all the required hair grafts have been extracted, we then create the channels in the bald areas. We use a sapphire blade to create accurate incisions into the scalp. This enables our experts to insert the hairs in the correct direction of hair growth.
Implanting the donor hair
The hair grafts are then inserted into the newly formed channels with intricate precision. To create a natural look, the hairs need to be inserted in the direction they would naturally grow.
For women, the SDHI technique is used as this creates denser hair around the hairline.
What happens after the hair transplant surgery?
---
After the hair transplant surgery, one of our hair doctors will assess your head to ensure that everything is okay. You'll be given a headband to wear which helps to reduce any swelling. Additionally, you'll be shown some massage techniques to help further reduce swelling around the scalp.
When the doctor is happy with everything, you can go back to your hotel room and relax. Of course, we will drive you there so you can simply relax.
You'll be provided with medication to ease any pain you might have, and you'll be given a neck pillow. This pillow will help to keep your head elevated so that the donor area or recipient area don't become irritated while you sleep.
The next morning you'll have a follow-up appointment with us where we will check your scalp. We will also wash your transplanted hair and show you how you need to wash it. So you know how to wash it over the following weeks while everything is still healing.
Conclusion
---

Our hair transplant surgery is run with a smooth, well-organised process. Each member of the team has extensive experience in their stage of the process. We have specialists for each step to ensure that each stage is carried out with complete accuracy.
Our hair transplants are suitable to treat female and male pattern baldness, as well as alopecia and other hair loss concerns. See the results from our patients and witness the impressive changes that a capillary surgery brings!
Do you have more questions or are you suffering from hair loss issues? Then feel free to to contact our friendly team that will answer all your queries.
Furthermore they can also offer a free and non binding hair analysis. So don't hesitate if you want to benefit from Dr. Balwi and Elithairtransplant's expertise for a successful and affordable hair transplant in Turkey!